When she's not walking the runway for Versace at Milan Fashion Week, gracing the covers of magazines across the world, attending Cannes Film Festival, or authoring best-selling books, Emily Ratajkowski is simply trying to juggle life as a new mom in New York City. The 30-year-old supermodel gave birth to son Sylvester in March 2021, and she's the first to admit that motherhood has altered just about everything, especially her fashion priorities.
"Well, I now love getting him dressed so much," Ratajkowski tells POPSUGAR. "I feel like I'm basically a baby stylist. And a lot of the time, depending on naps and whatever, I'll not have that much time to get myself dressed, which is okay. It just often means that I'm kind of throwing together looks."
A bona fide street style star who's always getting snapped by the paparazzi, Ratajkowski had more flexibility to think through and strategize her looks pre-motherhood. She would take her time trying out different outfits before heading out the door.
"I don't have that kind of room to play in the way that I used to," she says. "But that being said, I've kind of learned to find a balance with that. And especially now that it's getting warmer, I'm like, 'OK, I feel like I should try to put myself together as well as putting him together.'"
Ratajkowski's go-to outfit formula is all about comfort and practicality. "Definitely sneakers, for sure, and I'll do a pair of leggings," she says, adding that she's especially fond of flared leggings at the moment. "They make me feel a little bit cooler, like very minimally cooler," she shares, laughing. "And then sometimes I'll just borrow one of my husband's oversized coats and throw on a sweater."
Ratajkowski's latest collaboration with Italian footwear brand Superga could not be more perfectly aligned with her current approach to fashion. She had first worn their sneakers while walking her dog in New York City.
"I got papped in them and was a fan of the brand, so when they reached out, it felt really natural that we would do something together," she says. "I also love Italy and have worked with a lot of Italian brands, so I like that aspect as well."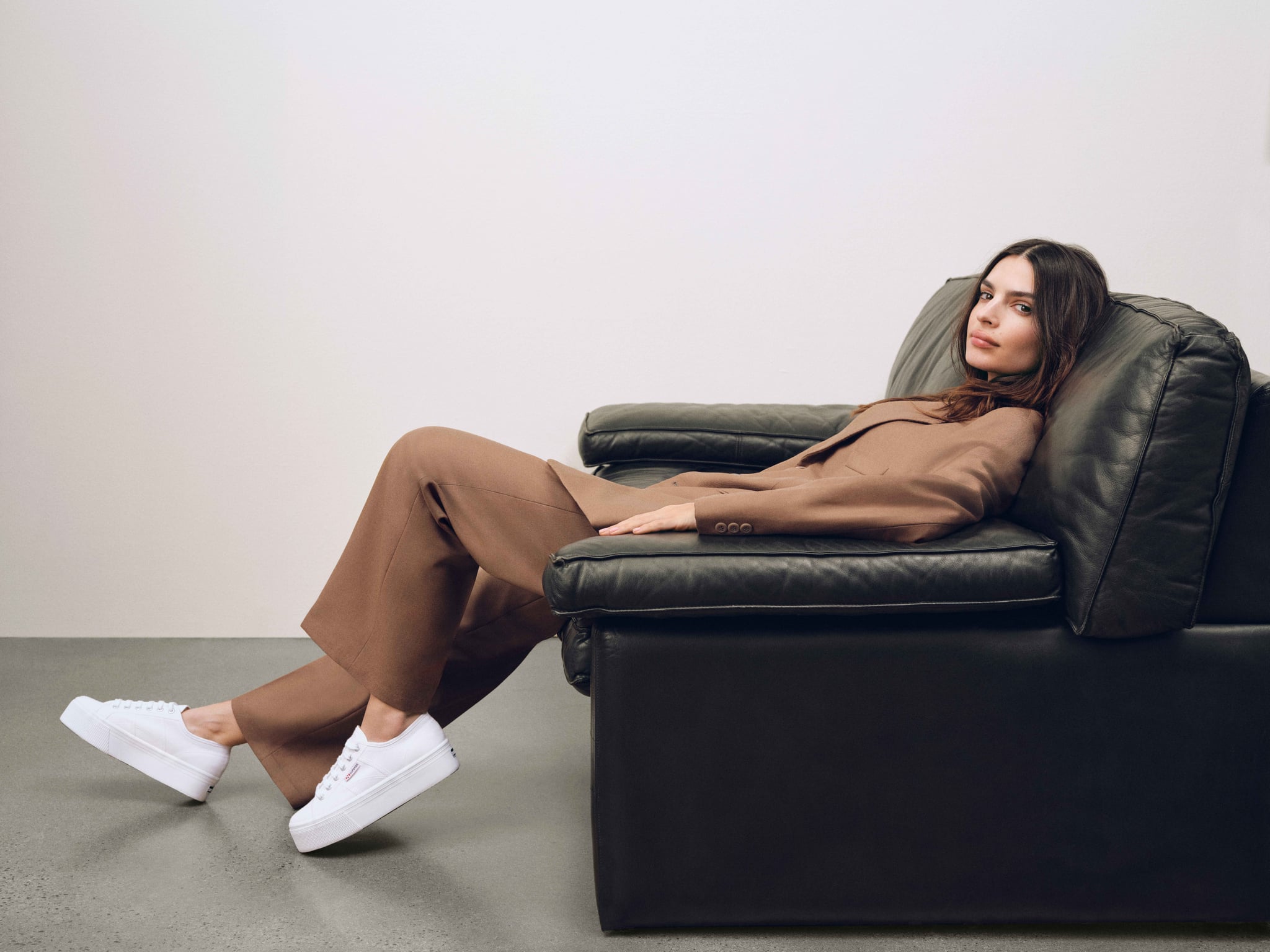 As a brand ambassador, she wanted to put her own twist on two of Superga's most recognizable styles, choosing to customize the Superga 2750 and the Alpina. Ratajkowski liked the contrast of those two styles: One felt a little bit more classic, and the other one felt slightly more fashion-forward. She kept the customizations minimalist (like bindings in an off-white color and rounded laces) to create a "really simple, great sneaker."
"I mean, I love wearing sneakers with a dress, especially as it's getting warmer in New York," she says. "It's the most comfortable-but-still-chic look that you can do. Other accessories, like what you do bag-wise and jewelry-wise, can dress it down. A larger bag makes it more casual, but if you do something tiny and kind of sexy, it can be great for night."
While #momlife has undoubtedly shifted Ratajkowski's personal style, she's still known for incorporating countless '90s fashion trends in her wardrobe. Ahead, she opens up about her favorites and how she would expertly style each.