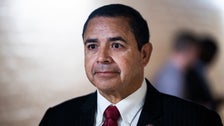 Texas Rep. Henry Cuellar (D) was carjacked at gunpoint on Monday night in Washington, D.C., about a mile from Capitol Hill, authorities said.
The lawmaker was unharmed and police later recovered his vehicle. Three armed robbers, at least one of whom had a gun, approached Cuellar in the city's Navy Yard neighborhood around 9:30 p.m. before stealing the car and the congressman's luggage. Politico was the first to report the news.
His phone and tablet were also stolen. It's unclear if the car, which had Texas license plates, identified the owner as a member of Congress, The Washington Post noted.
"As Congressman Cuellar was parking his car this evening, 3 armed assailants approached the congressman and stole his vehicle," his chief of staff, Jacob Hochberg, told media outlets. "Luckily, he was not harmed and is working with local law enforcement. Thank you to Metro PD and Capitol Police for their swift action and for recovering the congressman's vehicle."