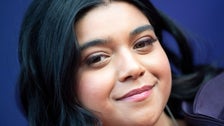 The star of "Ms. Marvel" earned her breakthrough role after receiving a "super sketchy" message from a family member.
Iman Vellani, a 19-year-old Pakistani-Canadian actor, will play Ms. Marvel (a.k.a. Kamala Khan) ― the first Muslim superhero in the Marvel Cinematic Universe ― in the new coming-of-age Disney+ series of the same name. Khan is a Pakistani-American girl and fan of superheroes who has "an oversized imagination – particularly when it comes to Captain Marvel," per Disney+'s description of the series.
On "The Tonight Show" Tuesday, Vellani told host Jimmy Fallon how she landed her first acting role after graduating high school.
"My aunt forwarded me a WhatsApp of the casting call. Super sketchy, I don't know what casting calls look like but I'm like obsessed with Marvel [Comics], I'm obsessed with 'Ms. Marvel,' I read all the comics in high school, dressed up as her on Halloween," Vellani said.
After she sent in a self-recorded audition tape for the role, Vellani received the Zoom call that would eventually lead to the superhero role:
Vellani will also play Khan in "The Marvels," a Marvel film set for 2023.
"She showed me every corner of her room and it was covered with Avengers," Amanat said. "Then she said, 'Oh wait, I'm not done,' opened up her closet and there was more Marvel everywhere."