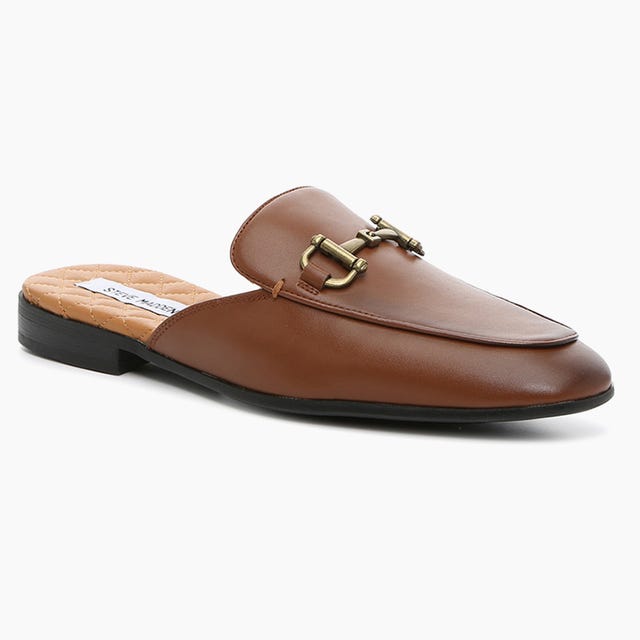 Yousra Attia
Listen, I love boots. I practically hold back tears when the sun starts blazing and I'm forced to shove my beloved Chelseas toward the back of my closet, lest my feet start to roast. But summer shoe season does have its benefits—for one, the sheer range of footwear available to shop.
Winter's naturally restrictive; there are only so many styles that can survive multiple months of cold, grey slush. But summer means both open-toed and close-toed designs have free reign. And with so many summer events—vacations, weddings, cocktail parties, long walks on the beach, baseball games, casual Fridays at the office—there are more excuses than ever to fill your shopping cart.
Of course, that also means there's a confounding number of options to choose from. Whereas a winter capsule wardrobe is straightforward, summer brings with it a million different styles of sneakers, sandals, flats, heels…the list quite literally goes on. To make stocking your shoe rack a little easier, we've narrowed down the possibilities to 20 essential summer shoe styles, including the all-important pool slide, dependable slip-ons, and a dressy sandal you can wear to parties and weddings all season long. Happy feet make for a happy summer.
Advertisement – Continue Reading Below
1
A Dressy Sandal
Carile Sandal
Every closet needs at least one pair of event-ready sandals. I'm an enthusiastic supporter of this summer's braided strap trend, plus this Kelly & Katie pair features an elegant (but accessible!) square heel.
2
A Durable Sandal
Arizona Waterproof Slide Sandal
There's a reason why they're the unofficial shoe of the summer: Birkenstocks have been battle-tested by a very ardent fan base. I recommend this waterproof pair for its ability to survive sun and splash.
3
A Slip-On Sandal
The Azura Dusty Rose
If you're hunting for a pair of comfy slip-ons, but are worried they'll go flying off your feet, this pick by Bells and Becks is your answer. The buttery leather is snug enough to keep the shoes secure on your feet, but soft enough to feel every bit luxurious as you skip from dinner to drinks. I wear mine everywhere.
4
A Slingback Sandal
Desert Kiss Sandal
I've owned my slingback Skechers for a couple of years now, and believe me when I tell you these shoes have seen things. Specifically, they've endured miles of concrete streets, been soaked by rain and pool water, and been stuffed carelessly into many a suitcase…and they're still kicking.
5
A Pool Slide
Sunshine Slide Sandal
These chunky padded slides are luxuriously plush, but fret not: they're tough enough to take on sand, saltwater, and chlorine without complaint.
6
A Thong Sandal
Marmont Logo-Embellished Leather Sandals
The tried-and-true flip-flop is a summer staple sure to transcend trends. Elevate yours with a Gucci logo in gold.
7
A High-Heel Sandal
Lesley Sandal
Whether for weddings, boardrooms, or cocktail parties, a dependable pair of high-heeled sandals should take precedence in any capsule wardrobe.
8
A Low Block-Heel Sandal
The Block Sandy Ankle Strap Sandal
If stilettos frighten you as much as they do me, take my word for it: a sturdy block-heeled sandal will save you needless ankle pain. This pair by Rebecca Allen looks luxe, yet casual.
9
A Colorful Pump
High Heel Pumps
Summer is open-toe season, but there are always one or two occasions that warrant covering up. Zhuzh up your favorite pair of pumps with an adventurous hue for the season.
10
A Cushy Loafer
The Starling
Unfortunately not all summer days can be spent on the beach, so when I'm headed into the office and haven't had a chance to touch up my pedicure, I opt for these cushioned loafers from Birdies. Whether dressed up (with a skirt) or down (with a pair of cropped jeans), they're always stretchy, supportive, and chic.
11
A Closed-Toe Flat
Huarache Flat
The woven pattern on these closed-toe flats make them scream summer vacation, even if you're forced to wear them to work.
12
A White Sneaker
Old Skool Sneaker
Chances are you already have a beloved pair of white sneakers on your shoe rack, but if you're looking to invest in a fresh new pair for summer, the classic Old Skools from Vans never get…well, old.
13
A Slip-On Sneaker
Cahlvan Sneaker
I'm not too proud to admit there are days when I don't feel like tying my shoes. That's the simple joy of a good slip-on: zero effort, maximum comfort, with the benefits of a sneaker and the style of a loafer.
14
An All-Terrain Sandal
Midform Universal Canvas Sandal
An absolute must-purchase for adventurous among us. If your summer takes you anywhere near a hiking trail, you'll want these soft but super-strong Tevas to transport you to the next view.
15
A Heeled Mule
Lupita Leather Wedge Sandals
Transparent straps and heels are another burgeoning trend this season, and Amina Muaddi's glass-like block heels add a gorgeous contrast to the timeless leather mule.
16
A Flat Mule
Majjik Mule
If you tend to suffer from shoe-inflicted heel abrasions, these flat mules are the ideal alternative. Backless but close-toed, they're a business casual favorite for warmer months.
17
An Espadrille Wedge
Lulu Espadrille Wedge Sandal
Beachside boardwalks and espadrilles belong together. These platform wedges—spot the trendy braided straps!—provide just the right amount of height without sacrificing comfort.
18
An Espadrille Flat
Espadrille Casual Flatform Sandals
If you'd rather not toddle in platforms, an espadrille flat is the move.
19
A Fisherman Sandal
Voss Fisherman Sandal
The brand beloved for its durable boots makes equally resilient sandals, available in this clean but edgy fisherman style. Pair them with cropped wide-leg denim and a tucked-in linen shirt for a casual, resort-ready look.
20
A Gladiator Sandal
Preslen Gladiator Sandal
The gladiator sandal is back for summer 2022, most frequently in the form of a lace-up hybrid. With a strap circling your calf and a sturdy back supporting your heel, these Crown Vintage sandals might need a stroll or two to break in, but after that, they're endlessly wearable.
This content is created and maintained by a third party, and imported onto this page to help users provide their email addresses. You may be able to find more information about this and similar content at piano.io
Advertisement – Continue Reading Below