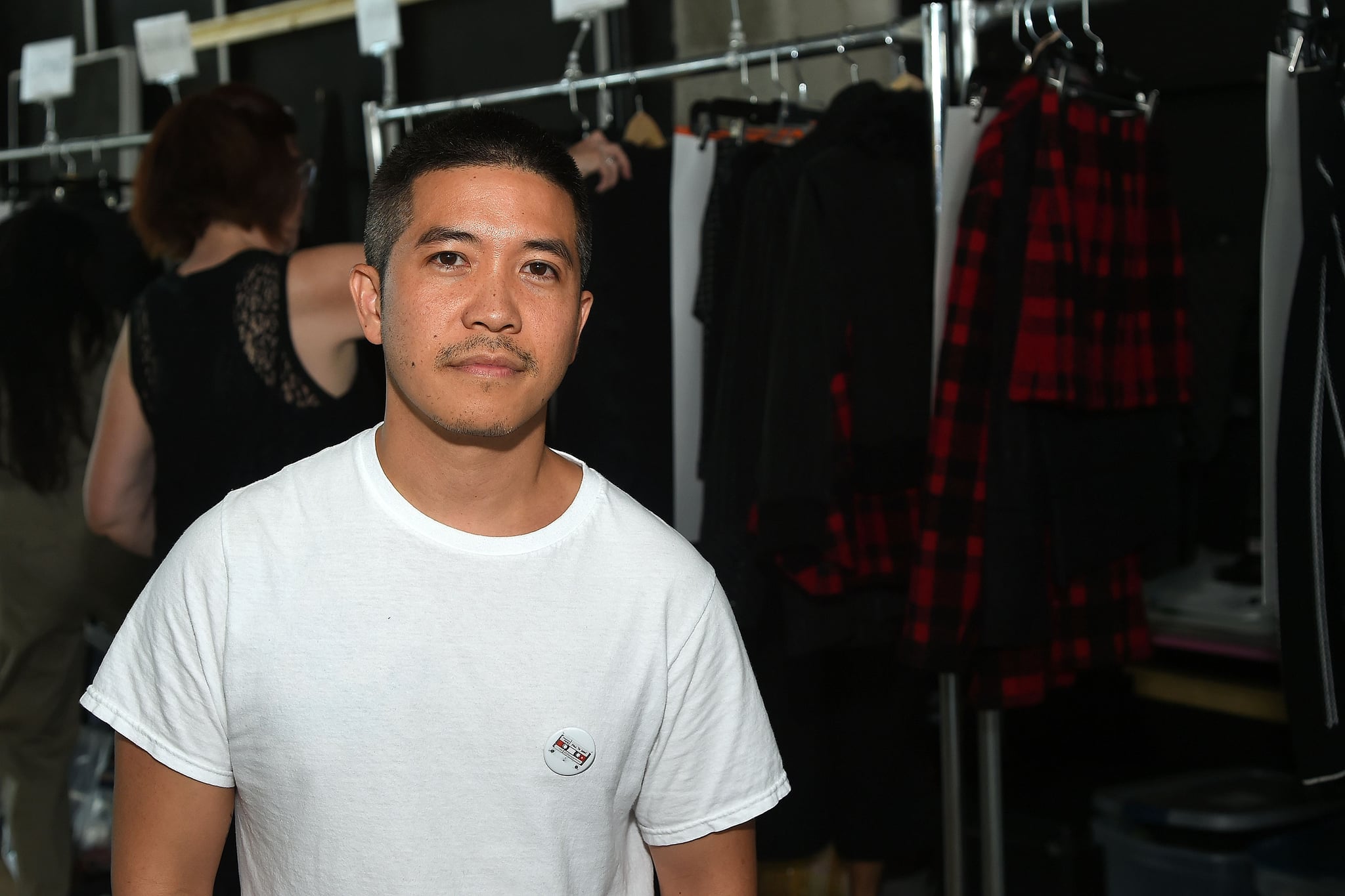 Image Source: Getty / Ben Gabbe
Of the commonalities I share with Thakoon Panichgul — we both work in fashion, we're both Asian American — the fact that's perhaps most surprising is our Nebraska connection. My home state is the kind of "Pleasantville"-like place that people don't really leave. So when you cross paths with someone who did, it's a bit like belonging to a secret society.
As it turns out, the 48-year-old designer lived in Omaha after his family immigrated to the United States from Thailand when he was 11. Panichgul recalls that he was "a fashion baby" and fell in love with everything style. His mom was a seamstress, and his grandmother taught him how to sew at an early age.
"Those were really good, solid, formative years," Panichgul tells POPSUGAR. "It actually made me into the fashion person I am today. There was so much boredom in Nebraska that I needed to find another outlet to do something. And I think that led me to fashion."
In 2000, he got his start in the industry as an editor at Harper's Bazaar before a design career began to pique his interest. After studying at Parsons School of Design in New York City for two years, he burst onto the scene, becoming a formidable favorite among the early-aughts fashion set.
Everyone from Sarah Jessica Parker to Rachel Bilson wore his designs. He produced popular mass-market collections at Gap and Target. Another career milestone happened in 2008, when Michelle Obama wore a floral Thakoon dress as her husband, Barack Obama, accepted the Democratic nomination for president.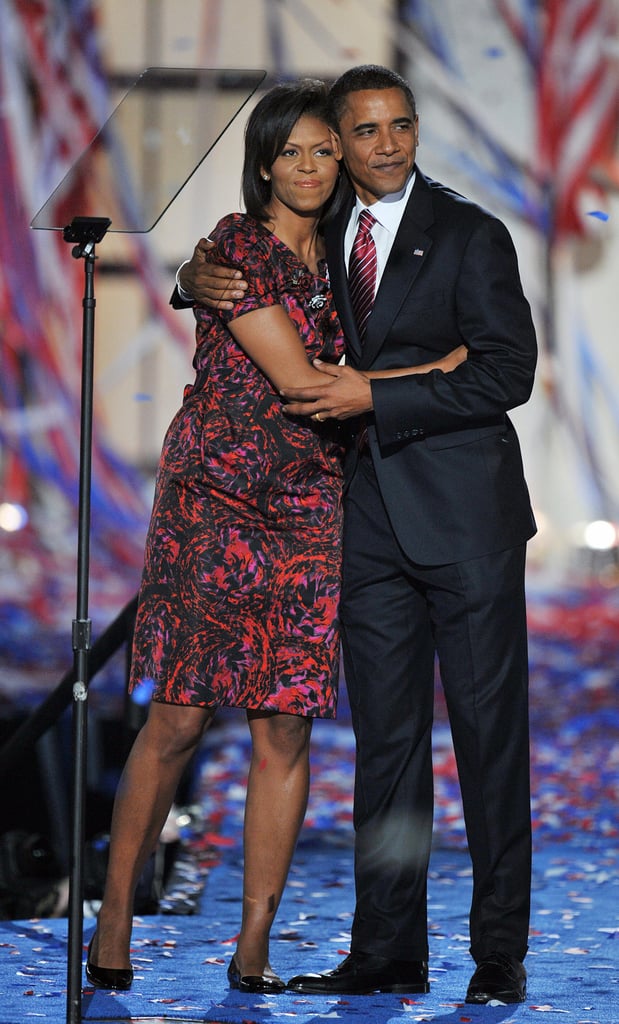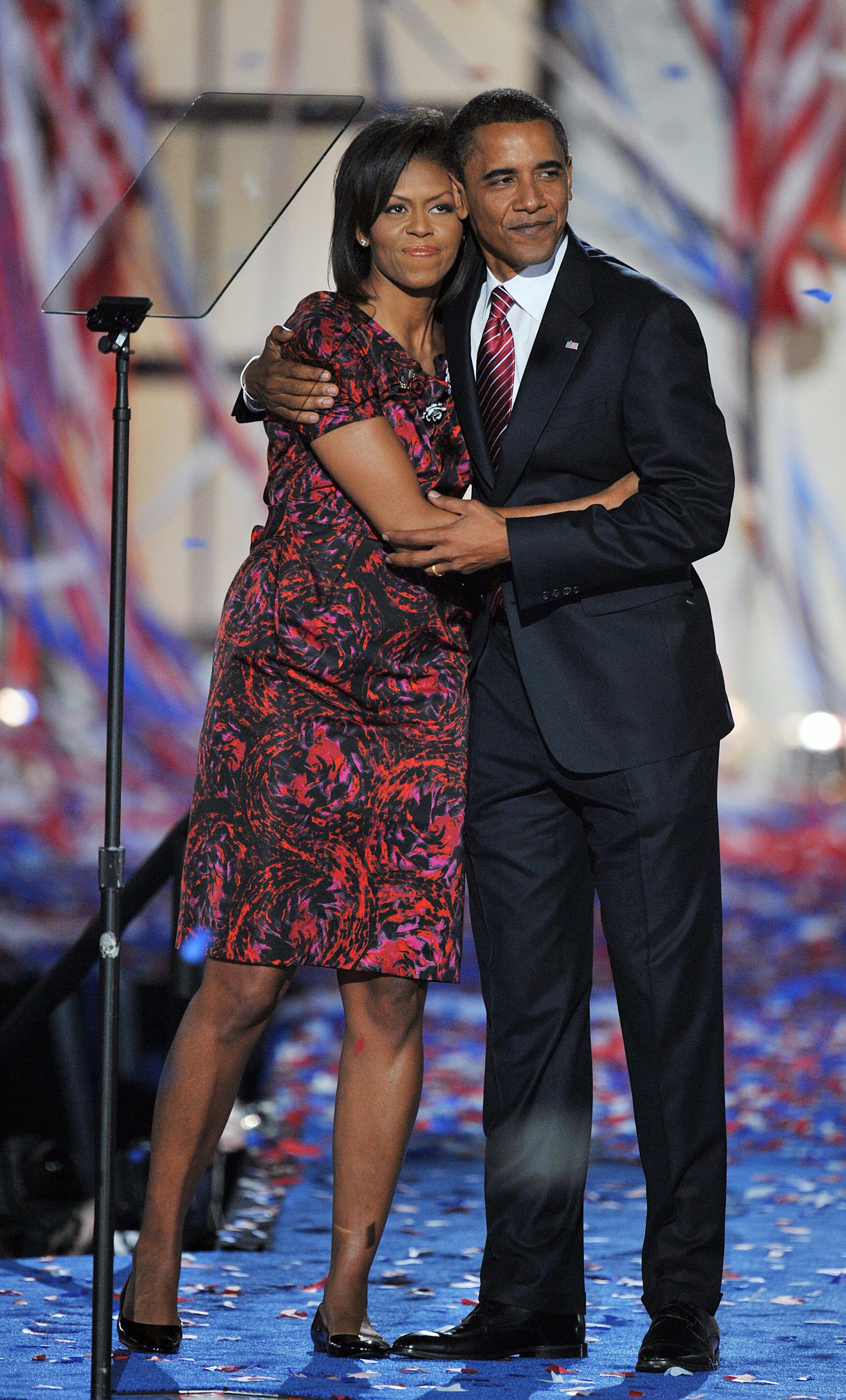 Image Source: Getty / Paul J. Richards
That moment — major as it was — might never have even happened in the first place, Panichgul reveals. He and his team made multiple options for the would-be first lady because she was a fan and had been wearing Thakoon for a while. But they didn't know when, or if, those garments would ever make it to center stage.
"When that showed up, I was watching the convention — because obviously we all were — I kind of screamed out loud. My hair stood up on the back of my neck. And then all of a sudden, the phones are ringing," Panichgul says, adding that one of those calls came from "Good Morning America."
The inspiration behind the striking black-and-red silk dress stemmed from one specific flower.
"I was working off the idea of examining peonies, because it's such a simple, beautiful flower, but so complex in so many ways," he says. "The energy when you look into it — I just was nerding out on that flower. We turned it into a print and extrapolated the colors, and we played with the negative of the colors."
In terms of the construction, it was cut almost like a "reverse kimono." The relatively reserved restraint of the garment's shape, combined with this idea of a peony vividly in bloom, brought to life the now-iconic dress. "It's an explosion of femininity," he says. "I love playing with those kinds of extreme energy."
While Thakoon was originally a runway brand, Panichgul shifted his approach in 2019, choosing to evolve his namesake label into a direct-to-consumer line of closet staples at more accessible price points. For spring 2022, his latest ready-to-wear collection, Panichgul is channeling ease with lightweight fabrics like cotton and silk, eyelet patterns, and other reimagined design details.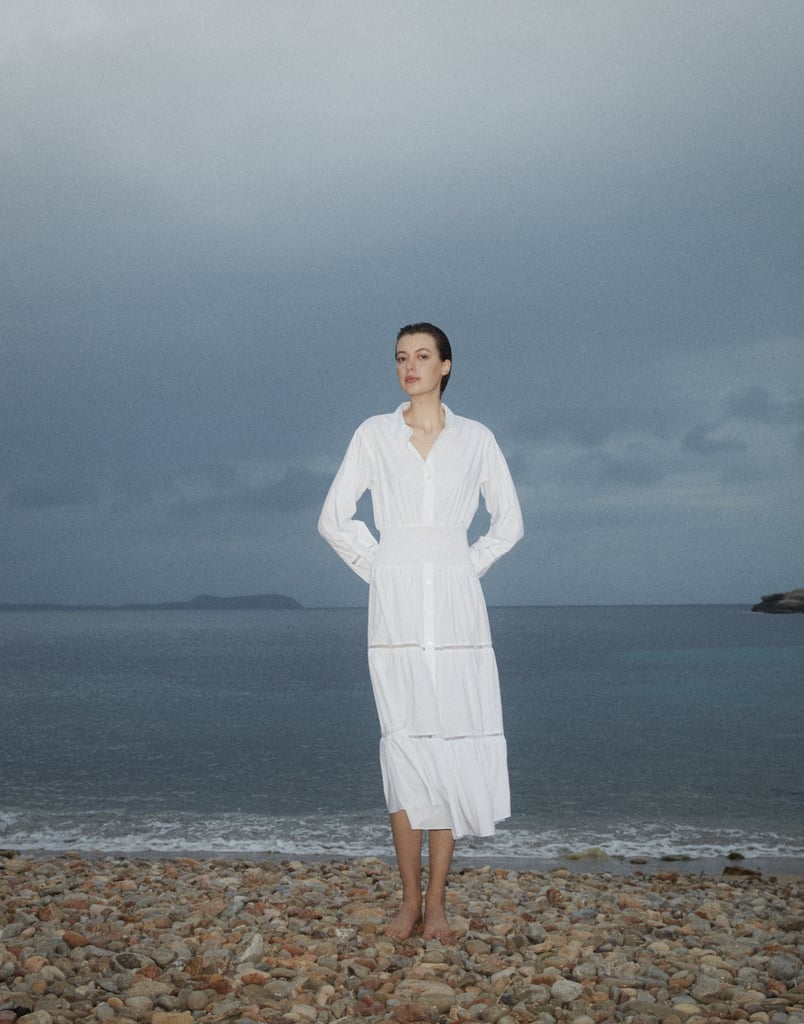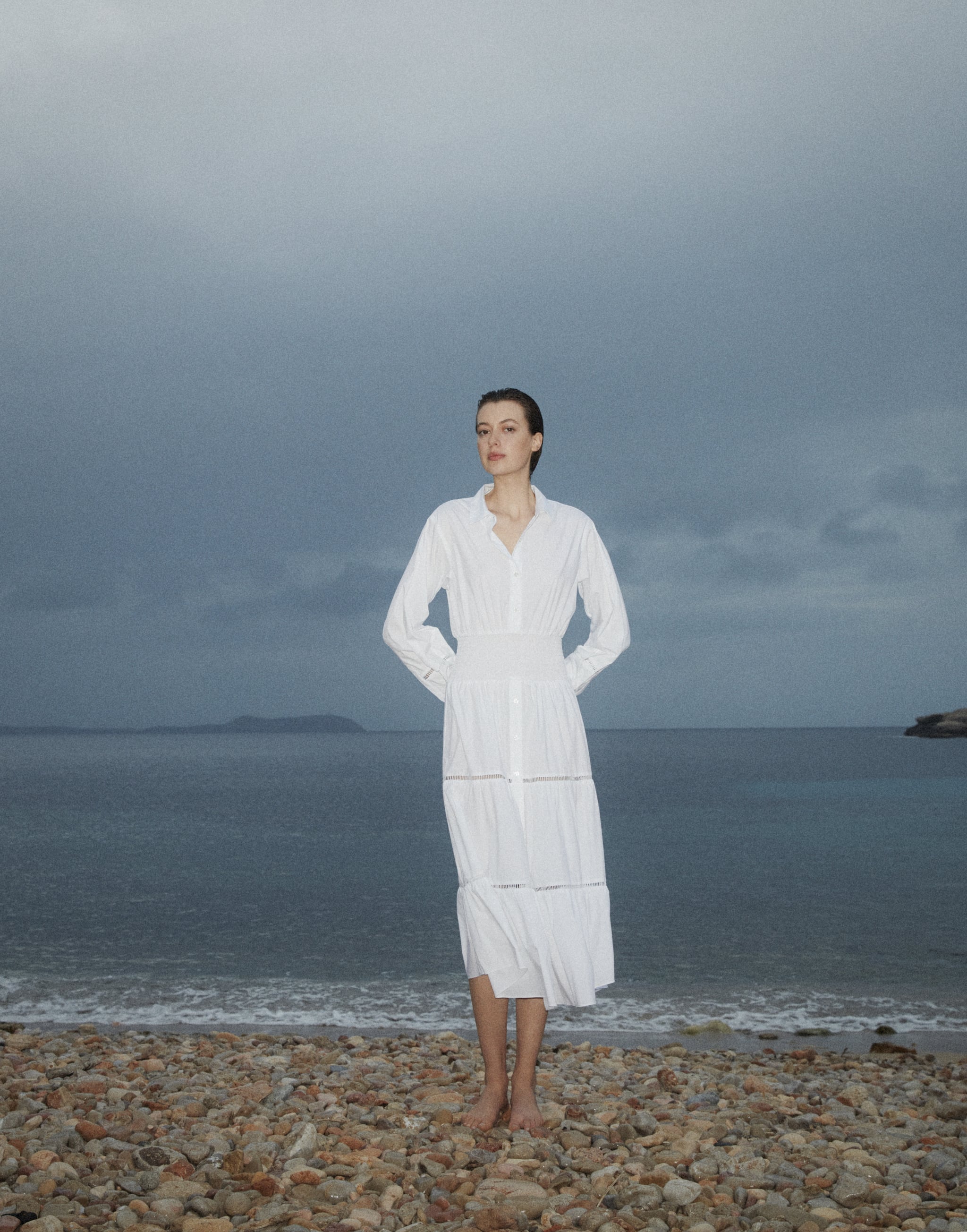 Image Source: Thakoon
"A classic example of a dress becoming such a hero product of ours right now — because it literally sells out as soon as we drop it — is our smocked-waist shirtdress," he says. "Smocking isn't a new idea, but when you pair it with a more chic, tailored piece, like a shirt or a shirtdress, all of a sudden, you're playing on feminine and masculine in a way that's new and exciting for the customer."
The spring 2022 collection includes crisp white and black eyelet pieces, along with printed jumpsuits and airy shorts. One glance at the collection's 12 looks makes it clear that he's putting volume back into play — like with a midi-length, trapeze shirtdress in a delicate eyelet pattern — while experimenting with his signature prints. He's introducing a black-and-white ivy-like floral print on a cotton and silk fabric on three different pieces.
"I'm feeling subtle prints again," he says. "For a long time, prints haven't been in the forefront. I'm feeling that energy back."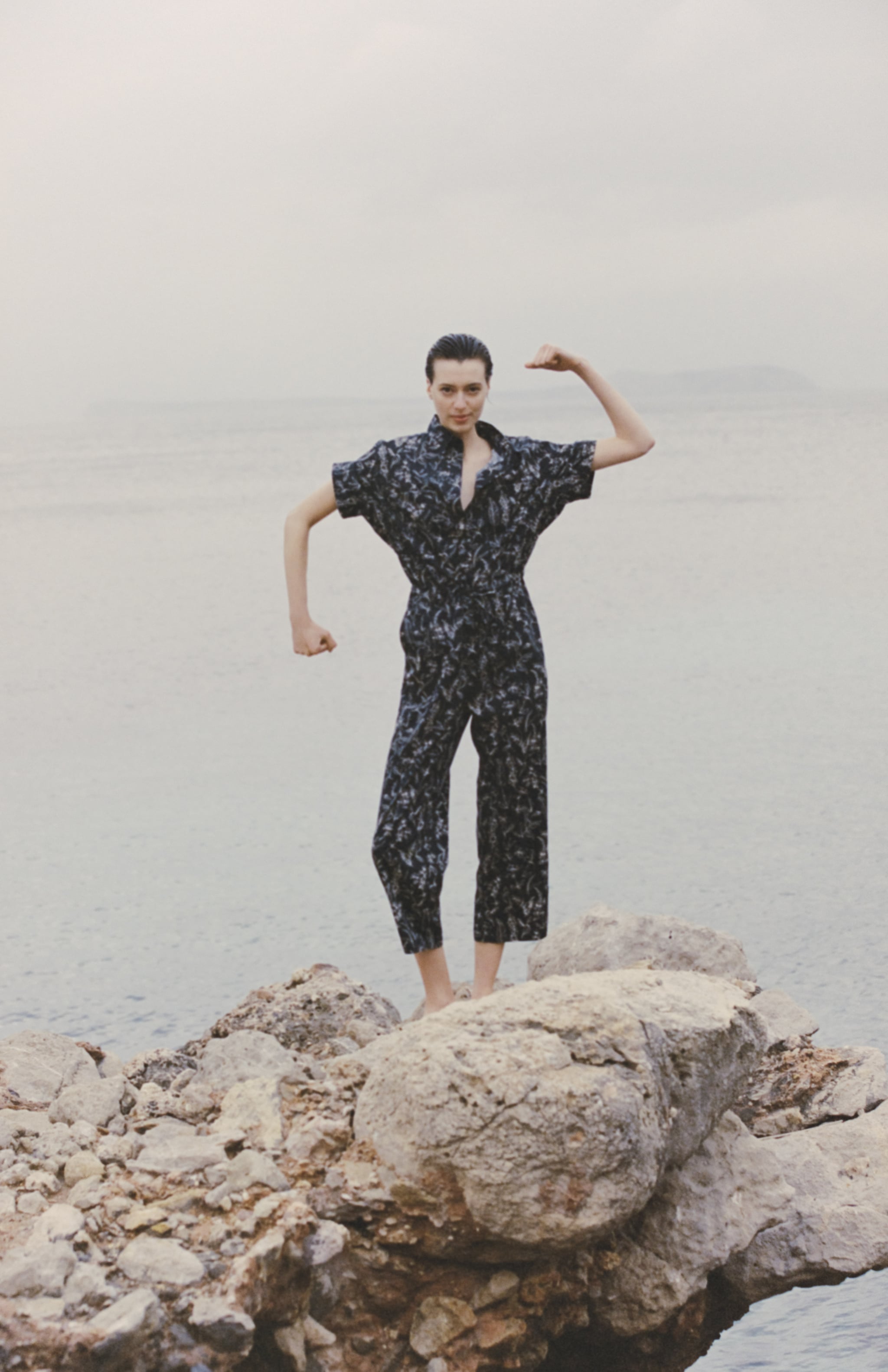 Image Source: Thakoon
While Panichgul isn't ruling out a return to the runway at some point in the future, he's finding purpose in his current mission of making big, sometimes intimidating trends attainable for all.
"Yes, the customer loves a good balloon sleeve, sequins, or whatever trick you come up with trend-wise, but ultimately, she's not wearing that," he says. "She's kind of consuming that visually on social media, and she can like it, but it doesn't mean she's going to buy it. For me, two different things are happening in fashion, and they can coexist. But I'm interested in really paying attention to what the customers are needing right now."