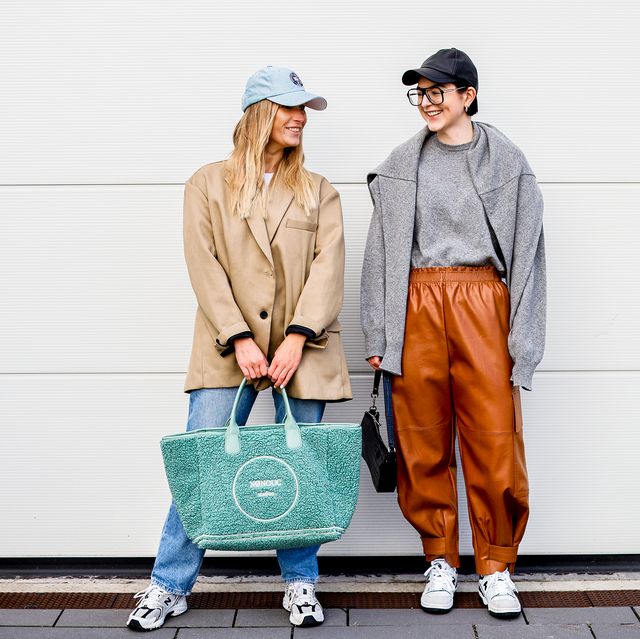 Getty
I know what you're thinking: "Trench coats and sweaters?! It's only July!" But in my somewhat professional opinion, it's never too early to start thinking about fall fashion, which is arguably the best time of the year for dressing. It's cold enough to wear all of your favorite pieces at the same time (hello, layers!), but warm enough to actually go outside and show off your fit. Exciting, right? So, why wait?! Plus, with so many clutch deals and stylish finds available on Amazon, now's the time to get a head start on fall clothing and accessory shopping.
Below, you'll find 36 must-have Amazon fall fashion pieces to help you prepare for the next season. From matching sets and faux leather leggings to ankle boots, blazers, jackets, and coats these are the killer fall fashion items to add to your cart ASAP. And we're not just talking everyday basic fashion, either—we've got plenty of on-trend clothes and accessories from the best Amazon fashion brands and luxury designers you love. Happy shopping!
Advertisement – Continue Reading Below
this matching set
Pleated 2 Piece Outfits Casual Pants Set
No matter what the season, matching sets make getting dressed in the morning a no-brainer. This one features a flowy silhouette and on-trend pleating.
these cool jeans
Premium Ribcage Straight Ankle Jeans
Yes, you do need a new pair of jeans for fall. This classic straight-leg style will last ya forever. "WOW I love these. I love all my Levi's, but these are my current favorite," writes one reviewer.
this cardigan
Fuzzy Knitted Cardigan
Style it over a T-shirt for the office, or wear it on its own for a weekend brunch date—either way, this Scotch & Soda piece is cozy and cute. Also, how cute is the pink trim detail?!
this stretchy maxi
Bohemian Style Elastic Waist Maxi Skirt
Pro tip: Swap out your satin silk midi for a low-rise maxi skirt this season. The runway trend is Y2k-inspired and super versatile—dress it up or down with sneakers, heels, or your fave fall boots.
this pastel blazer
Blake Long Blazer
There's a reason this blazer is an Amazon bestseller. The longline silhouette instantly elevates any outfit, and the quality is surprisingly good. Plus, it's available in seven different colors!
these platform clogs
Brooklyn-1 Bone Leather Studded Clogs
Clogs are so back, baby, and these leather ones will become your go-to office outfit accessory this fall.
these cargo pants
Drawstring Cargo Baggy Pants
We love a #BigPantsLittleShirt moment à la Bella Hadid, and these oversized cargo pants definitely deliver.
This Multicolored Sweater
Patchwork Pullover Knit Sweater
The colors on this one are so CUTE! This pullover style would look stellar with your fave pair of denim or even some leather pants.
This Versatile Scarf
Square Silk Neckerchief
We love a statement-making accessory. Tie it around your neck, or wear it as a headband. Basically, the styling world is yours!!
These Ultra Comfy Boots
Chelsea Sneaker Boot
A two-in-one shoe? Say the word and it's in my cart! This stylish pair is a Chelsea boot and sneaker all in one, ideal for those long fall days on the go.
This Long Waffle Sweater
Oversized Open Front Knit Sweater with Pockets
It's not called "sweater weather" for no reason! Next up is one of Amazon's favorite waffle cardigans, featuring a near-perfect five-star rating. All the commenters love its comfort and cut.
This Matching Lounge Set
2 Piece Long Sleeve Pullover and Drawstring Sweatpants
Where are my lounge queens at? Oh, everywhere? Great! Then you're all gonna want this soft matching sweatsuit that happens to come in more than 40 other colorways. I bet you're already daydreaming of enjoying hot chocolates and old Gilmore Girls episodes in this set.
This Furry Hat
Faux Fur Bucket Hat
Bucket hat hive, rise!! The leopard style is making me feel some kind of way, but if the print isn't your speed, it also comes in a fun star or cow pattern too.
This Midi Dream
Corduroy Skirt
This plus a trusty turtleneck and your favorite pair of knee-high boots equals the ideal fall fit.
This Ready For Any Weather Coat
Double Breasted Raincoat
A little rain shouldn't get in the way of an amazing outfit. This sleek, waterproof coat will keep you dry and oh-so-warm.
These Platform Loafers
Balin Loafer
ICYMI, thick-soled loafers are one of fall's cutest shoe trends. Slip these burgundy babies on and your look will be instantly elevated.
This Statement Jacket
Double Breasted Blazer
Animal print is always a good idea. And this coat is getting us all excited to wear layers again. Wear this to the office or keep it casual and pair it with jeans and a T-shirt, it's that versatile.
This Vintage-Inspired Sweater Vest
Oversized Vest
If it doesn't get that chilly for fall where you live, opt for a sweater vest! Plus, how fun is the houndstooth pattern on this style?
These Heeled Boots
Ryan-PBl Fashion Boo
It's not fall without some boots! The short heels on this pair feel modern, and it makes them much more inviting to throw on than some six-inch heels.
A Long-Sleeve Turtleneck Sweater
Raundi Sweater
It wouldn't be a true fall fashion roundup without including a turtleneck. Wear it on its own or style this piece underneath your favorite sweater as well! This PAIGE one comes in five other shades, too!
This Camel Cardigan
Oversized Open Front Sweater Coat
Why not kick this off with a classic, camel cardigan? There's nothing quite like a neutral lightweight coat to throw on and look effortlessly chic for the fall.
These Adorable Overalls
Ripped Denim Bib Overalls
Love a good pair of overalls for the fall! This one has raw hems on the bottom, adding a little unique touch to the look. Wear this during some of your favorite autumnal activities, like apple picking or taking in the colorful foliage.
This Belted Fluffy Jacket
Denver Sherpa Jacket
Okay, tell me this cozy jacket over leather pants doesn't look cool as hell. Fall evenings can get real chilly, so make sure to grab fluffy outerwear like this to keep you stylish and warm.
These Fluffy Slide Slippers
Fluff Yeah Slide Slipper
Fuzzy slippers are obviously a must-have, and lucky for you, the iconic UGG "Fluff Yeah" slides are available on Amazon. Seriously, have you ever blessed your toes with these shoes? IT'S AMAZING. Don't believe me? Well, maybe you'll believe the 21,000+ perfect five-star ratings.
This Long-Sleeve Dress
Dax Dress Raisen Starburst
A dark tie-dye dress in the fall would be a stunner. Of course, we have to keep in mind that it should keep us relatively warm as well. That's why this long-sleeve dress definitely deserves a spot on the fall checklist.
This Must-Have Trench Coat
Single Breasted Belted Trench with Hood
The weather can be quite unpredictable during fall, so having a trench coat for those rainy days will keep you prepared. This is a timeless piece that always manages to elevate any look.
This Fuzzy Fleece Sweater
Sherpa Pullover Fuzzy Fleece Sweatshirt
This fuzzy fleece sweater hit the nail on the head for fall vibes! According to the impressive ratings, this one's a no-brainer. The reviews say it does run small, so make sure to size up!
These Knee-High Socks
Flat Knit Knee 3 Pack Casual Socks
We can't forget about cozy socks now. Everyone needs a pair of knee-highs to protect their legs from the frigid breeze. Get this set of three to stock up!
This Chic Cap
Leather Casual Cap
A leather newsboy hat for under $20? And it comes in two other chic shades? Just shut up and take my money.
This Mustard Sweater Dress
Womens Sexy Off-Shoulder Sweater Dresses
When it's chilly outside and all you want to do is wear layers, it can be hard to dress up. A pretty number like this will turn heads and keep your limbs warm. Truly the best of both worlds. Plus, it has a four-star rating!
This Oversized Sweater
Y2K Women's Knitted Sweater Striped
This sweater looks like it was snatched right out of your dad's closet, and that's a vibe on its own. Pair it with your favorite jeans and some high-top sneakers, and you've got the perfect 'fit for a leisurely stroll under the yellow, orange, and red leaves.
Your New Favorite Jeans
Perfect Shape Denim Jean-Bootcut
Maybe packing up your summer skirts and shorts isn't such a bad thing when you get to swap them for these flared jeans.
This Cloud Pattered Crewneck
Cute Clouds Embroidery Knitted Pullover
Okay, I am actually obsessed with this cloud sweater. This little Amazon treasure does run a little small, so make sure to size up for that extra sweet oversized 'fit.
These Faux-Leather Pants
Faux-Leather Leggings Pants
Let me just say I strongly encourage you to go read the reviews and look at the customer pictures on this one. It's a stunner! Leather pants will go so well with big chunky knit sweaters or a sleek bodysuit, depending on your vibe for the day.
This Long Sleeved Shirt
Square-Neck Balloon-Sleeve Top
This cotton top might be too hot for the summer, but it sure is perfect for the fall (and spring!). It comes with ballon sleeves and would look top-notch with some light-washed jeans, like pictured here.
These Fluffy Slippers
So Good Fluffy Slippers
Yes, I had to throw in another pair of fuzzy slippers to this roundup, because can you truly have too many? A rhetorical question, clearly. These gorgeous top-rated slippers come in three different earthy tones.
This content is created and maintained by a third party, and imported onto this page to help users provide their email addresses. You may be able to find more information about this and similar content at piano.io
Advertisement – Continue Reading Below