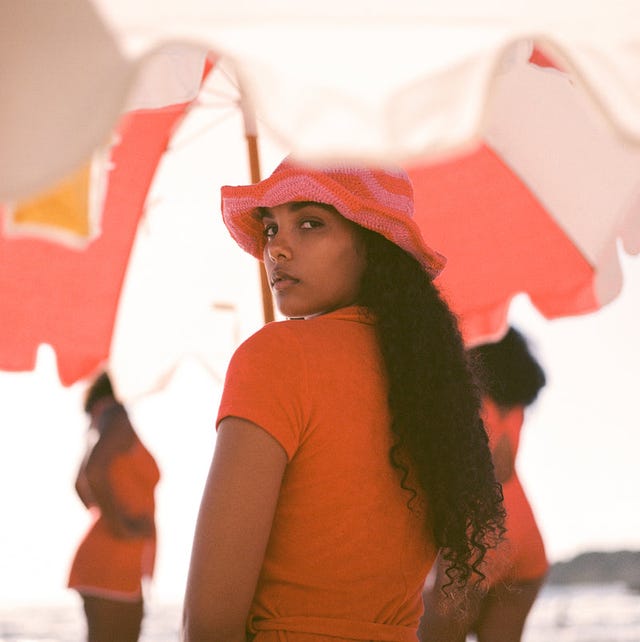 Courtesy of Lack of Color
At this point, you know the drill when it comes to trends. What's old will always be new again. Style is cyclical, for better or for worse. Right now, we're living in a Y2K renaissance, an age of mega platforms, sweater vests, and—you guessed it—bucket hats. But unlike some trends (ahem, whale tails), the bucket hat is a worthy one. The style frames your face in all the right ways and is a great all-season accessory. Besides, anything that helps shield you from the sun's rays is practically an anti-aging skincare investment. Fashion and beauty collide! Still skeptical about the throwback look? Don't be. Read on for proof that there is indeed a bucket hat for every season and aesthetic.
Advertisement – Continue Reading Below
Perfect for Summer
Wave Sun-Print Bucket Hat
Australian brand Lack of Color is known for its top-tier hats. This sun-patterned one adds a summery touch to any outfit.
Wear-With-Everything
Sea Through Me Tomorrow Cotton Canvas Bucket Hat
The most classic of all bucket hats. If you're looking to build a collection, this is a good place to start.
Get Graphic
Yin Yang Faux-Fur Bucket Hat
The yin and yang traditionally symbolize the balance between dark and light, negative and positive, good and bad—kind of like the balance of having a bad hair day (not good) and covering it up with a sweet bucket hat (so good).
So Cozy
Women's Sheepskin Bucket Hat
It's giving après-ski chic, no?
Sheer Bliss
Sheer Woven Wide Brim Floppy Bucket Hat
Whether you want to show off your new dye job or your eyeliner wing is just too good to cover up, you can still show off your mug in this wide-brimmed sheer topper.
A 2000s Dream
Bratz Fluffy Bucket Hat
Show your ~passion for fashion~ with this hat donning the name of everyone's favorite It Girl dolls. (Extra points if you sang the jingle.)
Faux Cheetah
Wera Bucket Hat
A fuzzy cheetah bucket hits all the right notes of sassiness.
Colorful Knit
Island Bucket – Zag Stripe
Perfectly floppy and absurdly adorable.
Amazon Best-Seller
Cotton Bucket Hats, Unisex
Available in 40 colors, you could get one to match every outfit.
Now Trending
Prada Logo Raffia Bucket Hat
Please don't touch my raf(fia).
Add a dose of old-world glamour to your wardrobe with this oversized option.
These sherpa hats elevate any cold-weather OOTD.
Logomania
Beige Raffia Bucket Hat
Put that Fendi logo on a paper bag and I'd probably wear it on my head just the same.
Cheetah and leopard prints have both had their 15 minutes of fame. Even zebra was hot for a minute. Now, it's cow print's time to shine.
For the Elements
Patti Bucket Rain Hat
The look of patent leather is always in style, and this hat has the added bonus of being weatherproof, too. Why have waste time with an umbrella when you could be flaunting a rain hat instead?
Blue Jean Baby
Denim Bucket Hat
Nothing is quite as casual and fun as denim. Okay, well no other fabric, at least…
2-in-1
2 Pack 100% Cotton Bucket Hat Unisex
Because, the more the merrier.
Wide Brim
Canvas-Jacquard Bucket Hat
You know what they say about big brims…more shade.
Classic With a Twist
Check Cotton Bucket Hat
Perhaps no print is more iconic than Burberry's plaid, which gets a neutral retouch in this alternative colorway.
'90s Nostalgia
Powerpuff Girls Fluffy Logo Bucket Hat
Are you a Bubbles, a Blossom, or a Buttercup? Regardless, your TikTok comments are about to be flooded with, "OMG where did you get that?"
Crochet Craze
Crochet Straw Hats for Women
This season is all about crochet. Everything, everywhere, all crochet. Head to toe.
Soft & Fuzzy
Fluffy Shearling Bucket Hat
A furry bucket hat in pistachio green? That's three fashion trends rolled into one accessory. We love to see it.
Tie-Dye
Reversible Bucket Hat
With various tie-dyes and prints ranging from cherries to mushrooms, this is one trendy hat.
Woven to Perfection
Bucket Hat Fashion Knit Cloche Hat
For when you want something neutral, a texture like this knit weave makes it just a bit more interesting.
Checkmate
Checkered Crochet Bucket Hat
It's off to the races in this cute checkered number.
Trendsetter
Bermuda Bucket Hat
Kangol is one of the O.G. bucket hat makers, so you know it can be trusted.
This content is created and maintained by a third party, and imported onto this page to help users provide their email addresses. You may be able to find more information about this and similar content at piano.io
Advertisement – Continue Reading Below