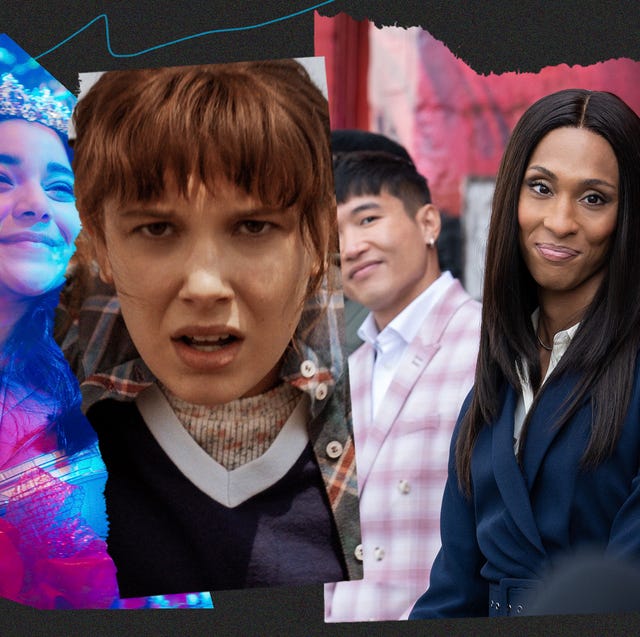 Marvel Studios/Netflix/Apple TV+/HBO/Design by Leah Romero
True, television is excellent—we'd even argue vital—year-round. But there's got to be some reason we all get so amped at the thought of big summer shows. Something about the season's change of pace, the energy-sapping temperatures and the indulgence in wanderlust makes our nights in front of the TV screen feel like more of a luxury, more of a moment. Maybe it's all marketing; summer blockbusters were always, after all, one of the only reasons to leave the neighborhood pool on scorching summer afternoons as kids. But we'd argue television really does hit a few peaks during the months of June, July, and August—so long as you know what to watch. For the summer of 2022, here's what we recommend.
Advertisement – Continue Reading Below
After an almost three-year wait, Stranger Things finally returns to Netflix, and this time a new evil is lurking in Hawkins. Our leading crew of monster-fighting kids are in both Indiana and California, also juggling high school pains along with eerie paranormal threats. In what's arguably the series' biggest (and scariest?) season yet, ST4 will be split into two parts, spreading our binges throughout the summer before we wait for the show's fifth and final season. —Erica Gonzales, senior culture editor
Volume 1 starts streaming on Netflix May 27 and Volume 2 on July 1.

Ben Kenobi has always been one of the most interesting characters in the sprawling Star Wars universe, and regardless of what direction the Disney+ spin-off series Obi-Wan Kenobi takes, it'll be a treat to watch Ewan McGregor reprise his old role from the prequel films. Given the time period—the show is set between the events of Star Wars: Revenge of the Sith and Star Wars: A New Hope—we can expect to find Obi-Wan reeling from the betrayal of his former friend…and desperate to protect the few remaining Jedi, including himself and a young boy named Luke Skywalker. —Lauren Puckett-Pope, associate editor
Out on Disney+ May 27.

Not even The Pynk, the central strip club in Pulitzer Prize winner Katori Hall's P-Valley, is safe from the COVID pandemic. The second season of the acclaimed series, celebrated for its portrayal of strip culture in the South through a female lens, will show how the establishment copes under lockdown and how its team copes with new talent in the locker room. Stars including fan-favorite Nicco Annan as Uncle Clifford, Elarica Johnson as Autumn, Brandee Evans as Mercedes, and more are set to return as Chucalissa, MS faces dark and dangerous times. —EG
Out on Starz June 3.
Just scroll through this list and you'll find numerous entries in the ever-expanding superhero canon, but The Boys is almost certainly the most unique offering in the bunch. Violent, ostentatious, boundary-pushing, and cynical, the Prime Video series set around a group of corrupt "heroes" and the normies up against them is a continually surprising treat. —LPP
Out on Prime Video June 3.

Alicia Vikander stars as Mira, an American movie star shooting a remake of a French silent film, Les Vampires, in Paris in this limited series based on Olivier Assayas' 1996 film. Over time, the boundary between Mira and her character, Irma Vep (an anagram of vampire), begins to blur, as does the line between fiction and reality. —Melissa Giannini, features director
Out on HBO June 6.

Kamala Khan is your average, everyday, fan-fiction-devouring nerd, except—surprise, surprise—she's got superpowers herself. In the highly anticipated new Marvel series, one of comics' most beloved characters finally makes her on-screen debut. Early glimpses of Iman Vellani as Khan promise action and humor in equal measure. —LPP
Out on Disney+ June 8.

Starring Kim Cattrall, Juliette Lewis, and an ensemble of mostly newcomers, the Queer as Folk reboot on Peacock is certainly under a lot of pressure. Both the British and American series upon which it's based are beloved among a devoted fanbase, which means Peacock's version will need to differentiate itself while paying tender homage to the originals. With talent like Cattrall, Lewis, and new stars like Ryan O'Connell, we have hope this series will strike the right balance. —LPP
Out on Peacock June 9.

After nearly nine years (!!) since the first episode of the BBC drama aired, Peaky Blinders is back with its sixth and final season. Thomas Shelby's group of gangsters have won the hearts of viewers both across the pond and close to home, which means the final chapter is sure to be momentous—and violent. —LPP
Out on Netflix June 10.

This year has been surprisingly rich for dynamic cop dramas (think Under the Banner of Heaven, We Own This City), and Dark Winds could be the most interesting addition so far. Produced by Robert Redford and Game of Thrones' George R. R. Martin, among others, the 1970s-set series follows two Navajo Nation policemen piecing together a double homicide in what's being billed as a psychological thriller. —LPP
Out on AMC June 12.

The Summer I Turned Pretty
Romantics who loved the To All the Boys trilogy should look out for the next screen adaptation of Jenny Han's beloved books. The Summer I Turned Pretty follows Belly (newcomer Lola Tung), who's caught in a love triangle between two brothers, two of her longtime friends, during a season of big life changes. This coming-of-age story is multigenerational, too; it also shines a light on Belly's mom, her relationship with her daughter, and the lasting impact of female friendships. —EG
Out on Prime Video June 17.
The Umbrella Academy Season 3
There are dysfunctional families, and then there are the Hargreeves kids, each adopted by an eccentric old man to be raised as superheroic living weapons. Oh, and they can travel through time! After season 2's adventures led us through 1960s Dallas, The Umbrella Academy heroes are back in the present-day…but not everything will look the same when season 3 rolls around this summer. —LPP
Out on Netflix June 22.

Maya Rudolph stars as billionaire Molly Novak, who is publicly struggling after her husband's betrayal when she learns she actually has a charity foundation. It's run by Sofia Salinas (Pose's Michaela Jaé Rodriguez), who, along with Molly's assistant Nicholas (Joel Kim Booster) and the rest of her team, helps Molly get back on her feet. Hijinks ensue in this workplace comedy written by Alan Yang (Little America, Master of None) and Matt Hubbard (30 Rock) and executive produced by Rudolph. —EG
Out on Apple TV+ June 24.
Only Murders in the Building Season 2
After solving crimes via podcast became a favorite national pastime, Only Murders in the Building scooped up the trend with equally affectionate and self-deprecating style. The Hulu dramedy starring Steve Martin, Martin Short, and Selena Gomez as unlikely podcast co-creators is a twisty treat, set to return for its second season this summer. —LPP
Out on Hulu June 28.

Never Have I Ever Season 3
One of the best post-2000s shows to tackle the teen rom-com, Never Have I Ever has proved itself endlessly endearing, whip-smart and—that great millennial buzzword—relatable. The series ends its final season this summer, and we can't wait to see what trouble Maitreyi Ramakrishnan's Devi has in store for us. —LPP
Out on Netflix Aug. 12.

Tatiana Maslany of Orphan Black fame is back in her first major television role since 2017. This time she won't be playing a clone, though she will look a little, uh, different as Jennifer Walters, the superhero lawyer also known as She-Hulk. —LPP
Out on Disney+ Aug. 17.

Based on the book Fire & Blood by Game of Thrones author George R. R. Martin, House of the Dragon delves into the silver-haired reign of House Targaryen and their kindred fire-breathing beasts. The series will depict an era 200 years prior to the events in GoT, but original fans can expect to see some familiar family names (and perhaps more betrayal and bloodshed). —EG
Out on HBO Aug. 21.

This content is created and maintained by a third party, and imported onto this page to help users provide their email addresses. You may be able to find more information about this and similar content at piano.io
Advertisement – Continue Reading Below