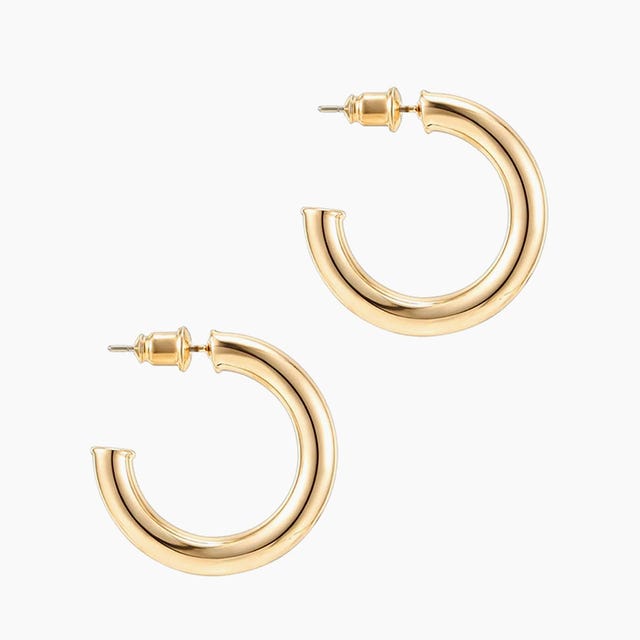 Courtesy
Contrary to what conventional wisdom might tell you, gifts don't have to be expensive to look expensive. In fact, some of the most sophisticated (and useful) products come with under-$50 price tags. But the line between cherished valuable and donation pile is, however, fine. So, to sort the treasures from the junk, we deep-dived into our favorite retailers' offerings to uncover hidden gems. Here, discover the best fashion, beauty, home, work, and travel gifts that match any recipient's desire for elegance—without emptying your wallet in the process. Happy gifting!
Advertisement – Continue Reading Below
These coasters will give their apartment an instant upgrade.
Don't you dare underestimate the value of perfectly cooked rice.
Give this to the person who loves a good shower concert. Nothing beats those acoustics.
Rectangular Vanity Makeup Mirror
Perfect for the friend or colleague who is constantly going on after-work dates.
Carhartt is worn by mechanics and freelance photographers in Brooklyn alike. Now, ironically, hip dogs can get in on the action, too.
These Insta-famous masks are worth their weight in selfies.
OK Tarot: The Simple Deck for Everyone
A great way to pass the time and learn something in the process.
Over 18,000 Amazon reviewers rate this clay mask at 4.5 stars.
We're Not Really Strangers
Consider this the sweet, introspective alternative to Cards Against Humanity.
Here's a jewelry box that's almost as pretty as their actual jewelry collection.
Himalayan Salt Shot Glasses
Tossing one back never looked so good.
Make socks and sandals more fun by gifting these tie-dyed pairs.
Do they almost always misplace hair accessories? Then they will no doubt rejoice over this mega set.
The most practical gifts are sometimes the sexiest. (Also, these colors are cute, no?)
Gift a tea set for the resident Bridgerton fan (or Anglophile).
A real diamond tennis bracelet may be beyond your budget, but this is the next best thing.
Urban Outfitters Tiger Bath Mat
Their bathroom is about to get wild⁠—literally.
Get this for your work wife (who always catches your side-eyes in the middle of Zoom meetings).
Texture Faux Fur Throw Blanket
Fact: There's no such thing as too many throw blankets.
Bamboo Bathtub Caddy Tray
Give them peace of mind and an hour or two alone in the tub.
Store your favorite serums, cleansers, and creams (or an extra can of Diet Coke) at your office with this extremely mini fridge.
This catchall tray will be used daily, guaranteed.
Personalized Toiletry Bag
This suave leather bag has more than enough room to hold even your mom's overflowing lipstick collection.
Made of medicinal mushrooms, phytonutrient-dense herbs, and adaptogenic plants, this stress-reducing blend could replace their morning coffee.
Why gift one pair of earrings when you can give three?
This intuitive mug warmer reacts when you place a mug on its surface, keeping your coffee toasty for hours.
Street Level Reversible Faux Leather Tote & Wristlet in Taupe/Ivory at Nordstrom
A sturdy, reversible tote for less than $50? Say no more.
Oddly-shaped candles are the new Diptyque. You heard it here first.
This anti-pollution mask is perfect for city dwellers.
Silk Night Sleeping Cap with Ribbons
If your giftee constantly complains about frizzy hair, this cap will change their life.
This gift is especially sweet for someone who grew up with this retro clock in their childhood home.
At $5 a letter, you can potentially spell out their entire name for under $50. A steal!
Hydro Flasks are a no-brainer gift. Because we all need to hydrate.
Zodiac Embroidered Journal
Whether they're a Pisces scribbling away their emotions or a Capricorn creating a to-do list, this journal is the perfect choice.
Make your gift all about them.
Glass Propagation Vase Bulbs with Wood Stand
If the pandemic transformed you into a plant parent, keep your colony going with this propagation stand, which looks rustic enough to function as window décor.
Premium Fleece Blanket with Sleeves
Yes, we stand by our argument that blankets are chic—especially when they're this luxurious.
Don't trust anyone who doesn't use a sleep mask. Give them a top-of-the-line style by Slip, instead.
Our Time Is Now: Power, Purpose, and the Fight for a Fair America
Buy this for everyone on your gift list and you won't regret it.
Looking to get outdoors more often? Make it easier with a stylish picnic blanket.
The easiest way to warm up a dining room.
Everyone should have this easy-to-use slow cooker in their kitchen.
Geode Resin Wine or Champagne Butler Caddy
This unique wine caddy means a bottle of Cabernet and a polished glass are never too far away.
Pull back those locks with a cute oversized claw clip that's strong enough to hold it all together.
Birth Month Flower Paint-by-Number Kit
This step-by-step kit will help them make a treasured work of art, even if they're clumsy with a paintbrush.
Applying this Gucci lipstick is an instant confidence booster.
A good Chelsea boot like this one is sturdy enough to stand up to winter winds but chic enough to pair well with skirts.
Outdoor Portable Bluetooth Speaker
Perfect for snow days, beach days, and every day in between.
Do they need a pot for their philodendron? These Grecian bust planters are eye-catching but classic enough to jive with the rest of your interiors.
These cozy lounge socks are durable but ultra-soft—and they've got Oprah's stamp of approval.
Immersion Multi-Purpose Hand Blender
Let them blend, whisk, and froth to their heart's delight, all with one simple tool.
Pre-Seasoned Cast Iron Skillet
Their whole household will thank them for the delicious meals that come from this ultra-affordable cast iron skillet.
Keep those fingers frostbite-free with a pair of snug but colorful mittens.
This kit holds 40 bottles in place with room for brushes and tools.
Much more elegant than a fluid lighter, your matches will need a place to go when not lighting candles. Show them off in this sophisticated cloche.
If you're candle-averse or prefer essential oils, this diffuser makes every day feel like spa day.
Selfie Ring Light with 50" Extendable Tripod Stand
Have they turned into a TikTok addict? They can film their next viral video using this ring light and tripod kit.
Flora Taper Candle Holder
Elevate their dinner party aesthetic with these playful candle sticks.
My Life In Chapters: 10 Year Journal
It's easy to get caught up in the hustle of daily life. Take a moment to reflect with this guided journal.
Sport Gym Duffle Travel Bag
We can't promise a cute marble duffle bag will make anyone go to the gym more often, but it certainly can't hurt.
Sleeveless High-Neck Bodysuit
A wardrobe must-have, this sleeveless bodysuit will serve you throughout every season.
Spruce up an ailing office space—or your own living room—with a hearty philodendron. Why not?
UV Daily Moisturizer with SPF Tinted Face Sunscreen
One of our favorite face sunscreens, this tinted pick from EltaMD is feather-light but powerful enough to keep UV rays at bay.
Classic Figaro Chain Necklace
Available in silver and gold, this timeless chain necklace adds charm to any ensemble.
Treasure favorite memories with these Art Deco-inspired frames.
PATTERN Leave-In Conditioner
Keep their curls super-smooth with this leave-in conditioner boasting rave reviews.
This luxurious body scrub is the ultimate excuse for them to indulge in a hot bath after (or, uh, during) a long day.
Pro Filt'r Soft Matte Longwear Foundation
You'll never go wrong by stocking up on this silky, full-coverage foundation.
Stay All Day Waterproof Liquid Eye Liner
They will master the cat-eye once and for all with one of our favorite waterproof liners.
If you like it, you should multiple rings on it. It's Bey's world; we're just living in it.
Naked Honey Eyeshadow Palette
Special occasions call for silver and gold—on your eyelids as well as everywhere else.
Leave it to Lady Gaga to deliver the goods. This delectable palette can be mixed and matched to create virtually any color story.
An abstract pair of earrings adds a zany boost to any 'fit.
Kendra Scott's simple styles are timeless and perfect for everyday wear.
Celebrity-loved brand JW Pei makes this mini bag that is oh-so on-trend.
Main Character Energy Snake Chain
Remind them that yes, they are the main character. At first glance, you'd never know this versatile chain is etched with writing, which makes it great for layering with other necklaces.
Modern Multicolored Abstract Garden Plants, Unframed Art Prints
It's always a good time to help someone start their own art collection.
Pucker up, buttercup. This moisturizing mask will remedy chapped lips in a snap.
Amazonian Clay 16-Hour Full Coverage Foundation Custom Value Set
This kit includes all you need for a full face beat.
Fine-Waled Corduroy Shirt
The perfect layering piece doesn't exi—
The Softest Ribbed Long Sleeve Mock Neck
Considering the mileage your gift recipient will get out of this essential layering piece, it's well worth the price tag.
Delicate huggie earrings can stand alone or pair with other stud sets for a clean or eclectic look, respectively.
Green Clay and Eucalyptus Vegan Scented Candle
A cozy and fresh scented candle that's also vegan and cruelty-free. Win, win, win, win.
Make opening a bottle of beer look chic.
Concrete Planter Succulent Arrangement
Even the most negligent plant owner can raise a succulent.
2-Pack Dual USB Portable Charger
Who among us couldn't use an extra portable charger?
This bee-emblazoned ring is as sweet as honey.
The Boba Kit (Matcha + Amber Rock Sugar)
Encourage their boba obsession with this DIY set, complete with matcha powder and amber rock sugar.
14K Yellow Gold Colored Lightweight Chunky Open Hoops
If you don't already have a well-worn pair of chunky gold hoops, it's never too late to hop on the bandwagon.
12-Pack Variety Floral Sage Bundles
Soul-soothing sage will make their home feel totally cleansed.
Burrito Baby Tortilla Blanket
Are you kidding? New parents will freak over how adorable this burrito swaddle is.
Store those pesky Airpods in a case that doubles as a wristlet.
Mini Long-Wear Cream Shadow Stick Trio
No need for expensive palettes or new brushes—just spread on one of these gorgeous cream shadows for a look that pops.
Pillow Talk On The Go Set
Stash this beloved kit in your bag for easy makeup touch-ups.
Cropped Mock Neck Sweater
You'll never regret gifting a soft mock neck. There's no outfit it can't work with.
Home will smell like the holidays long after the presents are unwrapped.
Stoneware Mini Round Cocotte
Think of all the tiny pies, puddings, quiches, and stews to be made. Yum.
One-Pound Weighted Bangle Set
Get a little extra effort out of your workout with this (unexpectedly stylish) weighted bangle set.
Sure, you could top off your curls with a dad hat, but a beret is just so much more fun.
This content is created and maintained by a third party, and imported onto this page to help users provide their email addresses. You may be able to find more information about this and similar content at piano.io
Advertisement – Continue Reading Below