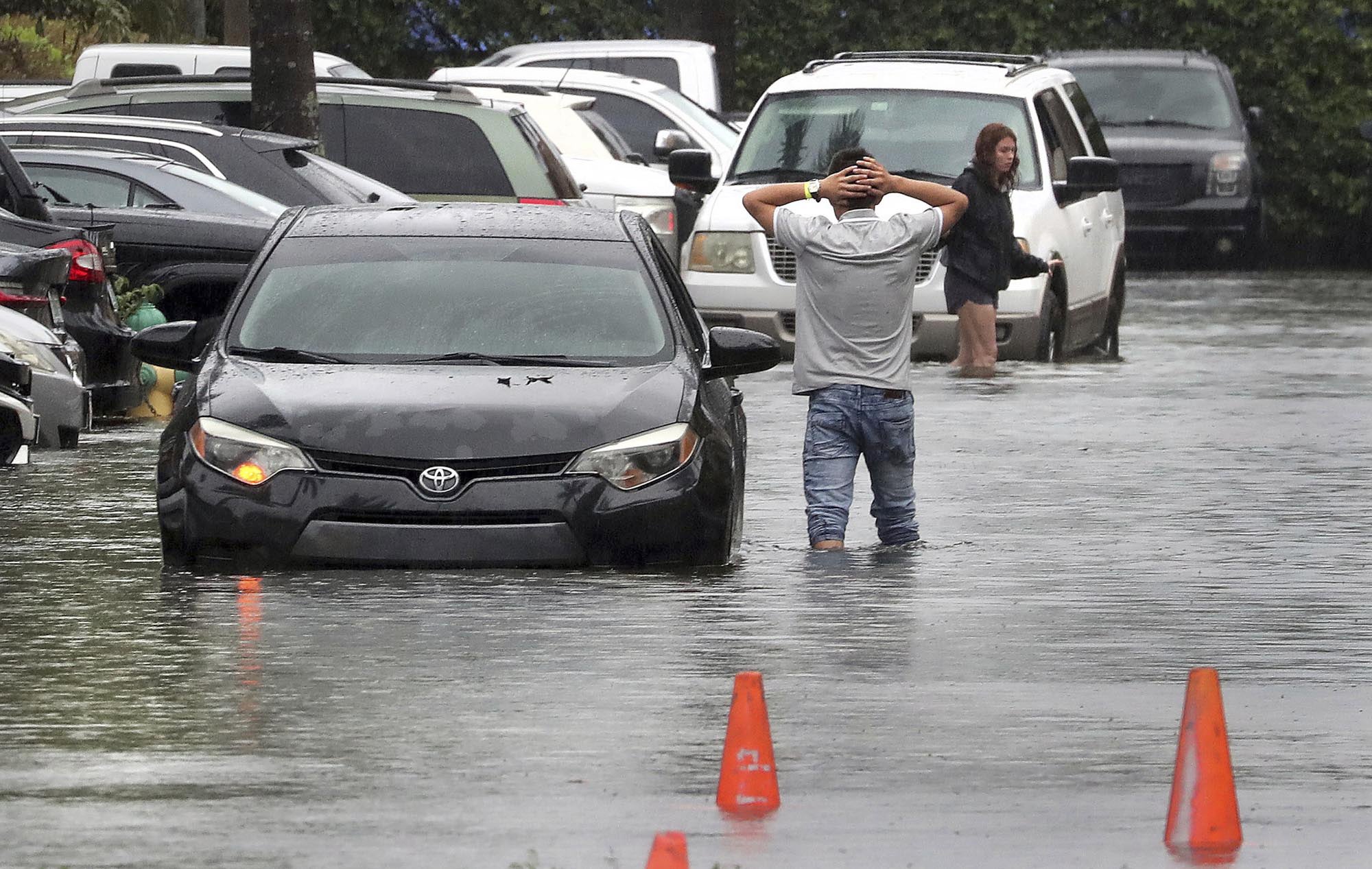 CLIMATEWIRE | An intensifying tropical system that became the first named storm of the 2022 Atlantic hurricane season dumped nearly 15 inches of rain on parts of South Florida on Saturday, giving the region an early taste of what experts say could be a very active hurricane season.
By yesterday morning, the depression had turned into Tropical Storm Alex. It churned north-northeast into the Atlantic Ocean, where it was expected to bring high winds and heavy rain to Bermuda this morning.
The storm was less severe than initially feared when it formed last week in the Gulf of Mexico. Even so, many South Floridians saw a foot or more of rain. Miami streets were inundated with floodwater — stranding vehicles in water up to the wheel wells.
A no-swim order was issued by Miami-Dade County after storm sewers overflowed across the region.
"This is a dangerous and life-threatening situation. Traveling during these conditions is not recommended. It's better to wait. Turn around, don't drown," the city of Miami tweeted Saturday. "There may be live electric wires, cracks or other hazardous conditions. Please stay home."
The storm drew modest attention over the weekend outside Florida, where heavy rain and flash flooding crossed the lower peninsula from Naples beginning early Saturday. The National Weather Service upgraded the system to a tropical storm yesterday as it exited Florida, packing 60-plus-mph winds.
Before entering the Gulf, the storm killed three people in Cuba, damaged homes and severed electricity to parts of the island.
While unorganized as it approached Florida's Gulf Coast, the storm was closely monitored by the National Hurricane Center as the first Atlantic depression of the 2022 season, which runs from June to November.
Historical NOAA data shows that most severe Atlantic hurricanes occur in August and September. But scientists say storms have become more variable and erratic under changing climate conditions, and the odds of an Atlantic hurricane strike happening in any given year have increased.
Five of the six most destructive hurricanes on record have occurred since 2010, including 2012's Superstorm Sandy and a trio of megastorms in 2017: Harvey, Maria and Irma, according to federal data. The year 2020 set a record for the largest number of named storms to strike the United States in one year, at 12.
While a precursor to Alex was gaining strength in the Gulf last week, the first Pacific basin storm, Hurricane Agatha, killed 11 people in the Oaxaca state of Mexico and left 20 missing, according to the Associated Press. Agatha was the strongest hurricane ever recorded to come ashore in May during the eastern Pacific hurricane season.
NOAA meteorologists said last month they expect between 14 and 21 storms to enter the Atlantic basin this year, six to 10 of which will become hurricanes (Greenwire, May 24).
Meanwhile, Colorado State University on Thursday updated its 2022 hurricane forecast, predicting 20 named storms and 10 hurricanes. Officials at CSU's Tropical Meteorology Project expect five of those storms will reach major hurricane strength.
Reprinted from E&E News with permission from POLITICO, LLC. Copyright 2022. E&E News provides essential news for energy and environment professionals.