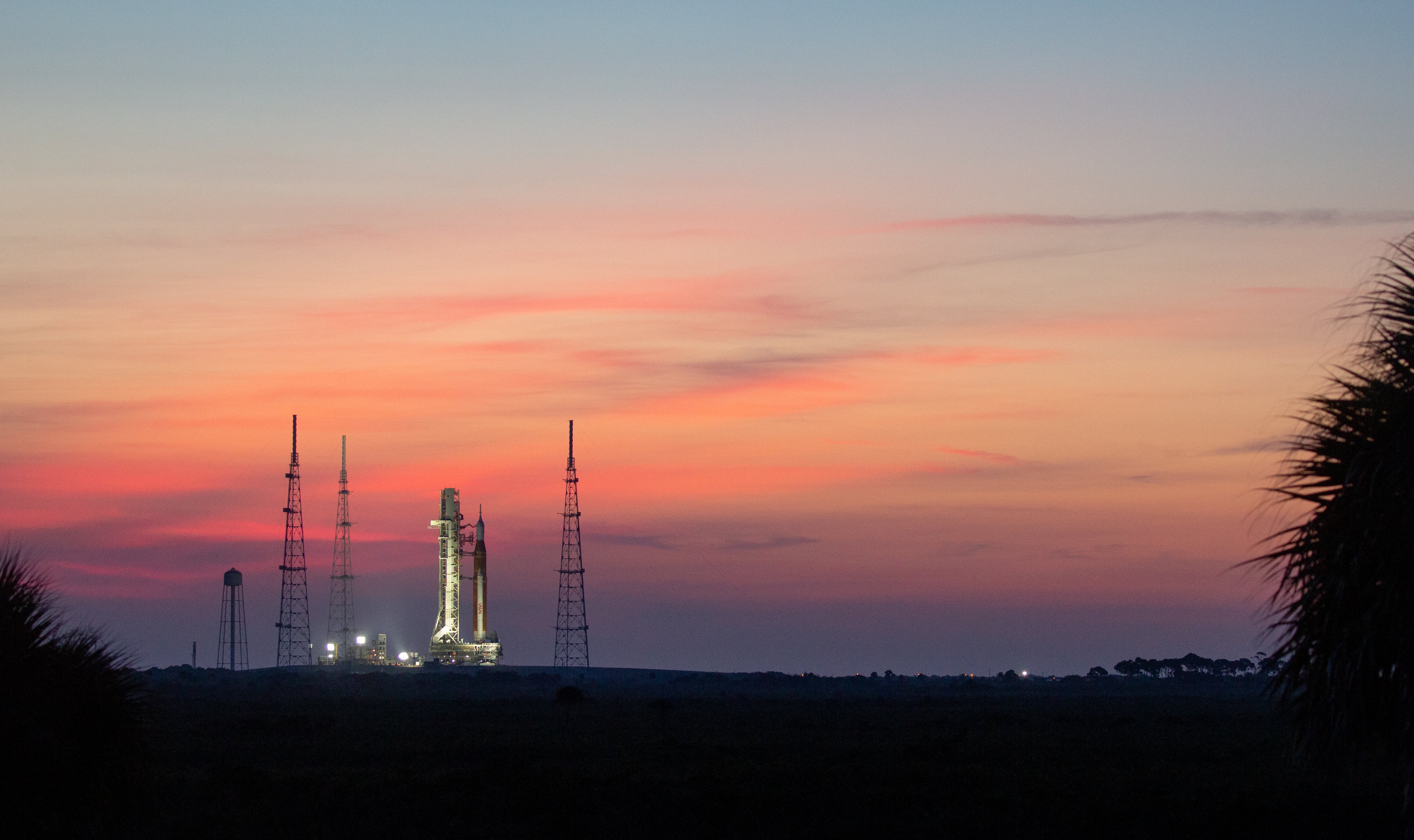 A problem with one of the four rocket engines that will power NASA's giant new launch vehicle for deep space exploration forced the space agency to call off the booster's much-anticipated launch debut early today.
One of the Space Launch System's RS-25 rocket engines – Engine No. 3 – was not producing the desired flow rate during the 'engine kickstart bleed' procedure, which conditions the four engines for launch. All four rocket engines must be at the proper temperature for launch.
After numerous unsuccessful troubleshooting attempts, the launch team simply ran out of time and could not complete the preparations necessary to launch Artemis 1 before the close of today's two-hour launch window. Engineers will continue to collect test data from the partially-fueled launch vehicle to determine the cause of the rocket engine problem.
NASA had hoped to test this liquid hydrogen engine chilldown procedure during its final launch dress rehearsal in June but was unable to, according to NASA's Derrol Nail. "So this was the first opportunity for the team to see this live in action. It's a particularly tricky issue to get that temperature dialed in."
The rocket engine problem stalled plans to launch the SLS rocket and its unpiloted Orion spacecraft on an ambitious 42-day test flight around the moon. Liftoff was originally scheduled for 8:33 a.m. EDT (1233 GMT).
The fuel leak was not the only issue NASA faced during Monday's launch countdown. Offshore storms and lightning delayed fueling of the SLS rocket by nearly an hour, forcing launch controllers to work to catch up for lost time. Rain showers were also encroaching upon the launch area at the time of the scrub.
NASA does have at least two backup days on which to fly Artemis 1 on its mission to the moon. If today's vehicle issues can be resolved, NASA could try to launch again Sept. 2 or Sept. 5, weather permitting. The space agency is also keeping a wary eye on several tropical weather systems developing over the warm Atlantic waters that could potentially threaten Florida's east coast.
Copyright 2022 Space.com, a Future company. All rights reserved. This material may not be published, broadcast, rewritten or redistributed.