In the vast world of One Piece, Devil Fruits are some of the rarest and most sought after treasures on the open sea. Recently it was revealed that every Devil Fruit essentially is the manifestation of a dream someone once had given form. With their wide range of abilities at hand, each granting incredible powers and abilities to their users, Devil Fruits are coveted by pirates, marines, and revolutionaries alike.
That being said, not all Devil Fruits are created equal. Some are vastly more powerful than others, and can grant their users abilities that are truly a notch above the rest. Here are the ten strongest Devil Fruits in the world of One Piece:
Related: Zoro Is Much Deeper Than One Piece Fans Think, & Sanji Proves It
13
Hana Hana no Mi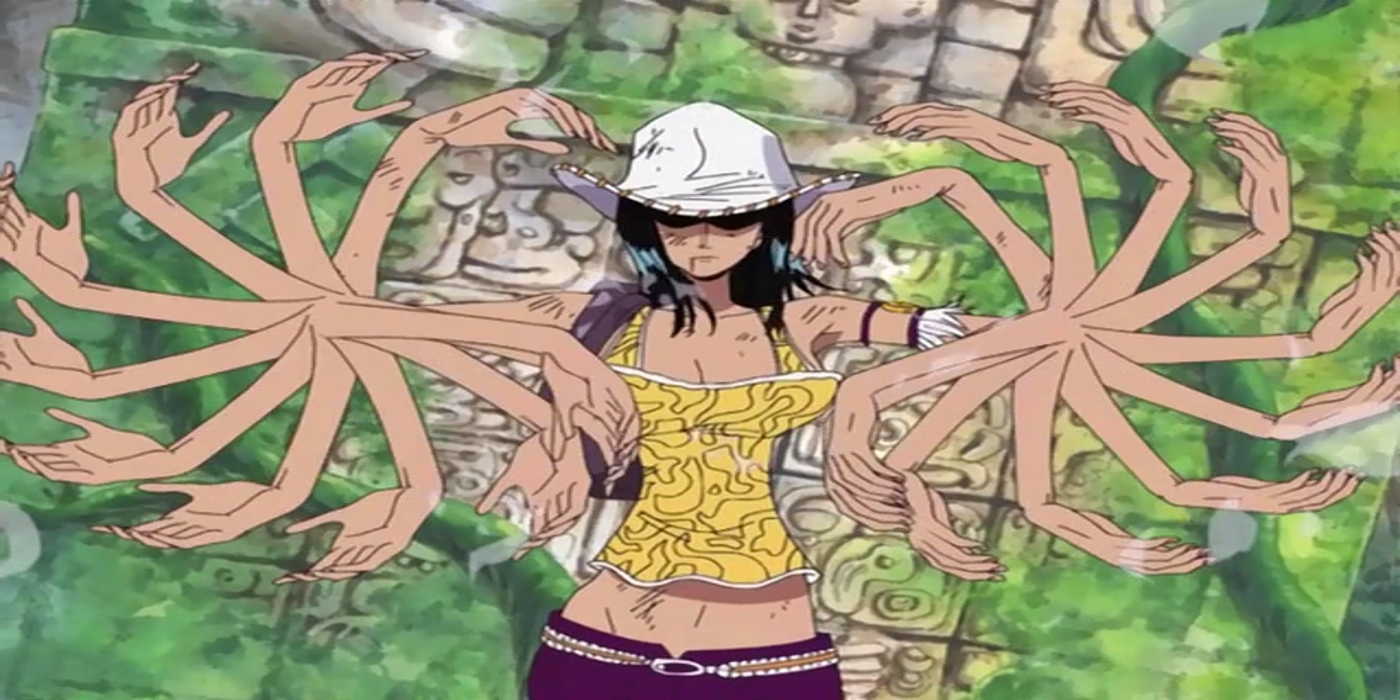 The Hana Hana no Mi, or Flower Flower Fruit currently possessed by One Piece's Nico Robin, is a unique Paramecia-type Devil Fruit that allows one to sprout extra body parts from any surface, whether it be the ground or other people's bodies. This ability is particularly useful for both assassination and stealth operations, as it allows an enemy to be taken out at a distance by turning their own body into a weapon. Furthermore, this fruit's powers can be advanced to the point where a user is capable of sprouting gigantic limbs, crushing foes in their path. This Devil Fruit can even allow the user to manifest a gigantic version of themselves, making this power one of the most versatile abilities in the series.
12
Zushi Zushi no Mi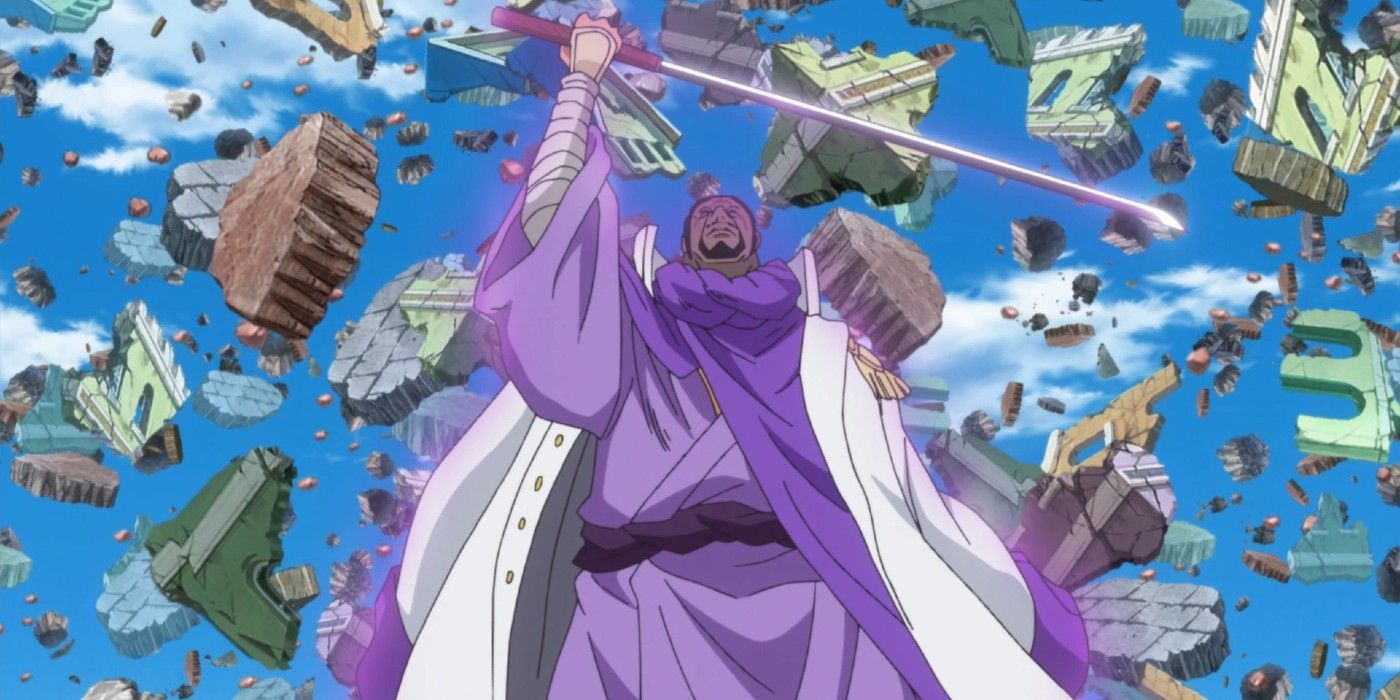 Fujitora is one of the newer Admirals introduced in One Piece, but that doesn't make him or his Fruit any less powerful. Fujitora's Devil Fruit is the Zushi Zushi no Mi, which allows him to manipulate gravity. While he has used this power for some small-scale feats such as levitating objects and pinning enemies in place, his Fruit also has a much more extreme destructive potential, rivaling even One Piece's ancient weapons like Uranus. Fujitora can call down large meteors from the sky to crush his enemies, which makes him a terrifying offensive threat even from a distance. This ability can potentially cause mass destruction, making the Zushi Zushi Fruit easily one of the most powerful in the series.
11
Uo Uo no Mi: Model Seiryu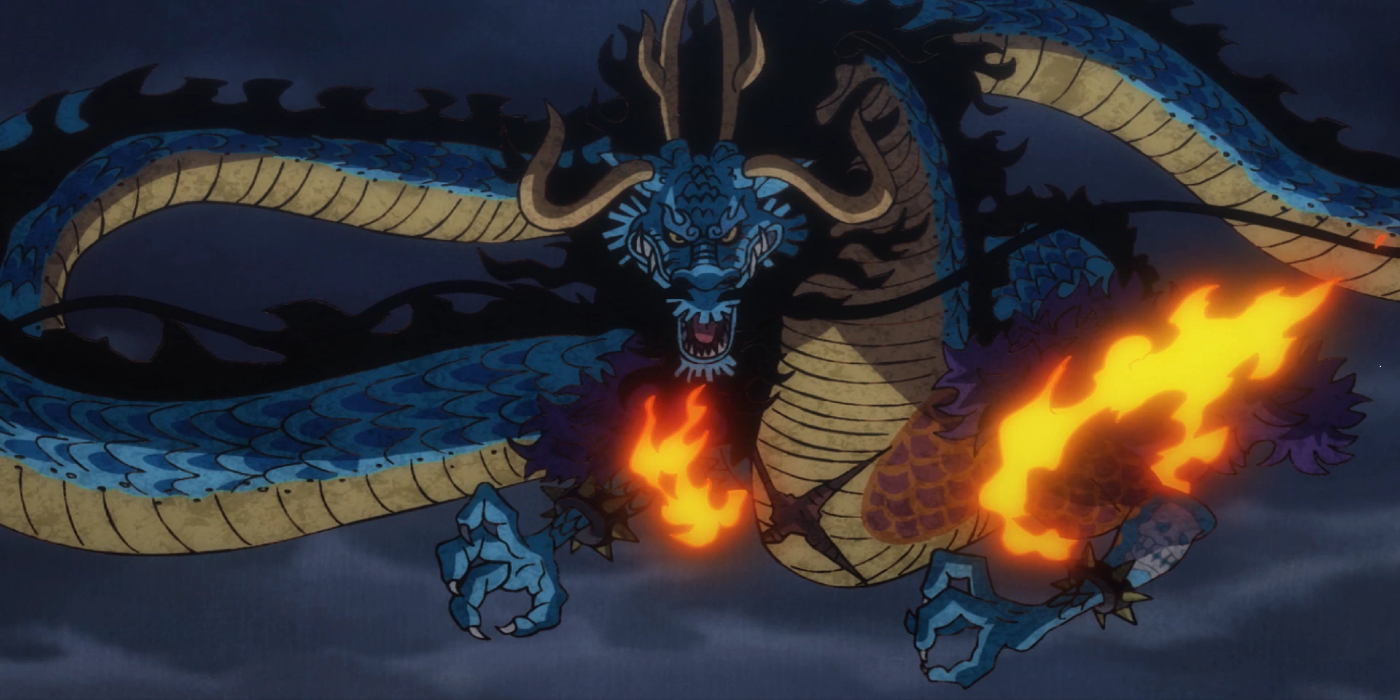 The Uo Uo no Mi: Model Seiryu, or the Fish-Fish Fruit: Model Azure Dragon, is a Zoan-type Devil Fruit that was eaten by One Piece's Kaido after the fruit was given to him by Big Mom. This Devil Fruit allows the user to transform into a gargantuan flying dragon capable of breathing fire and controlling clouds of flame. The Uo Uo no Mi specializes in raw strength, and its natural ability could be seen in Momonosuke's usage of the cloned Devil Fruit during his battle with Kaido. Despite having little to no training and no real Haki, Momonosuke stood his ground against Kaido momentarily upon assuming his full dragon form.
Related: Jonathan Majors Becomes a One Piece Villain in Manga-Inspired Shoot
10
Goro Goro no Mi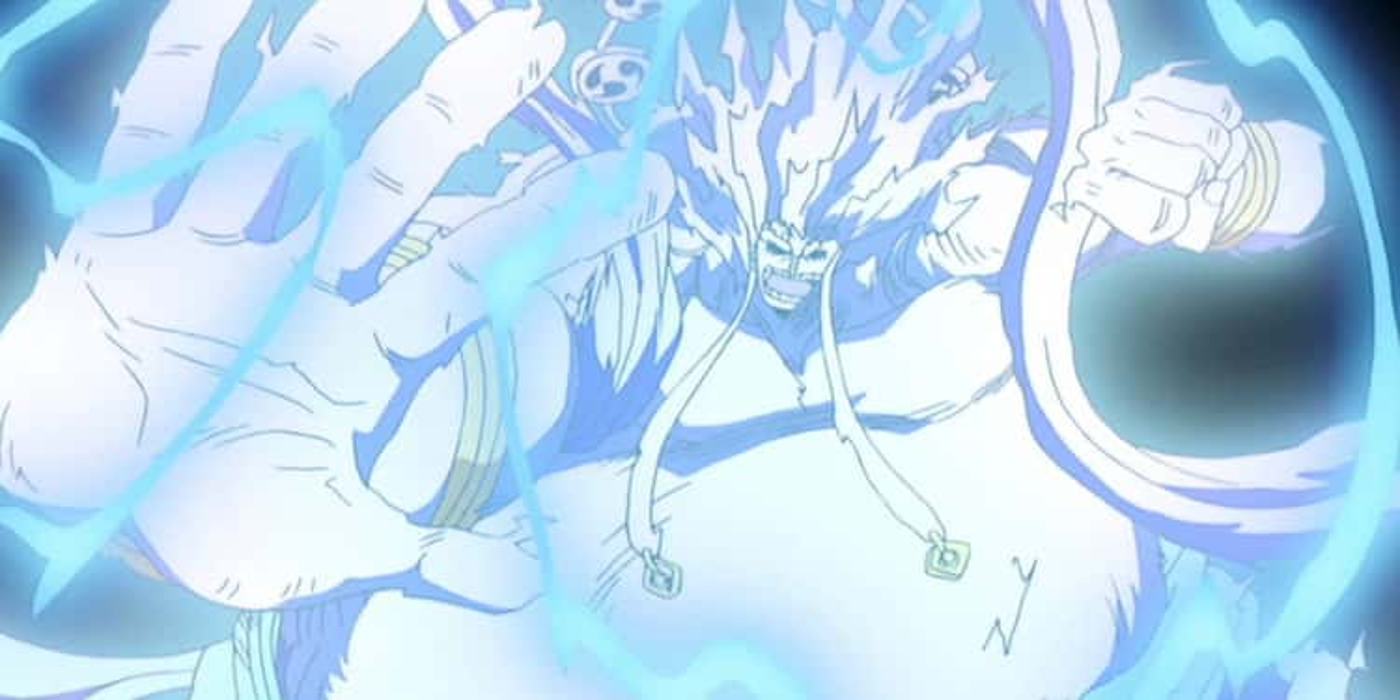 The Goro Goro no Mi, or the Rumble-Rumble Fruit, is a Logia-type Devil Fruit that was eaten by the former tyrant of Skypeia, Enel. While the Goro Goro no Mi can deliver power output just as great as the Uo Uo no Mi: Model Seiryu, it also provides the user with an absurd amount of abilities. Like all Logia-type Devil Fruits, the Goro Goro no Mi allows a user to become intangible, becoming outright invincible to foes that don't yet possess Haki. Enel was capable of traveling great distances in the blink of an eye, conducting himself through metals, controlling the weather to an extent, and even using the heat from his lightning-based body to reforge weapons. The user can also power large machines with their power, giving themselves a nearly limitless supply of energy.
9
Ope Ope no Mi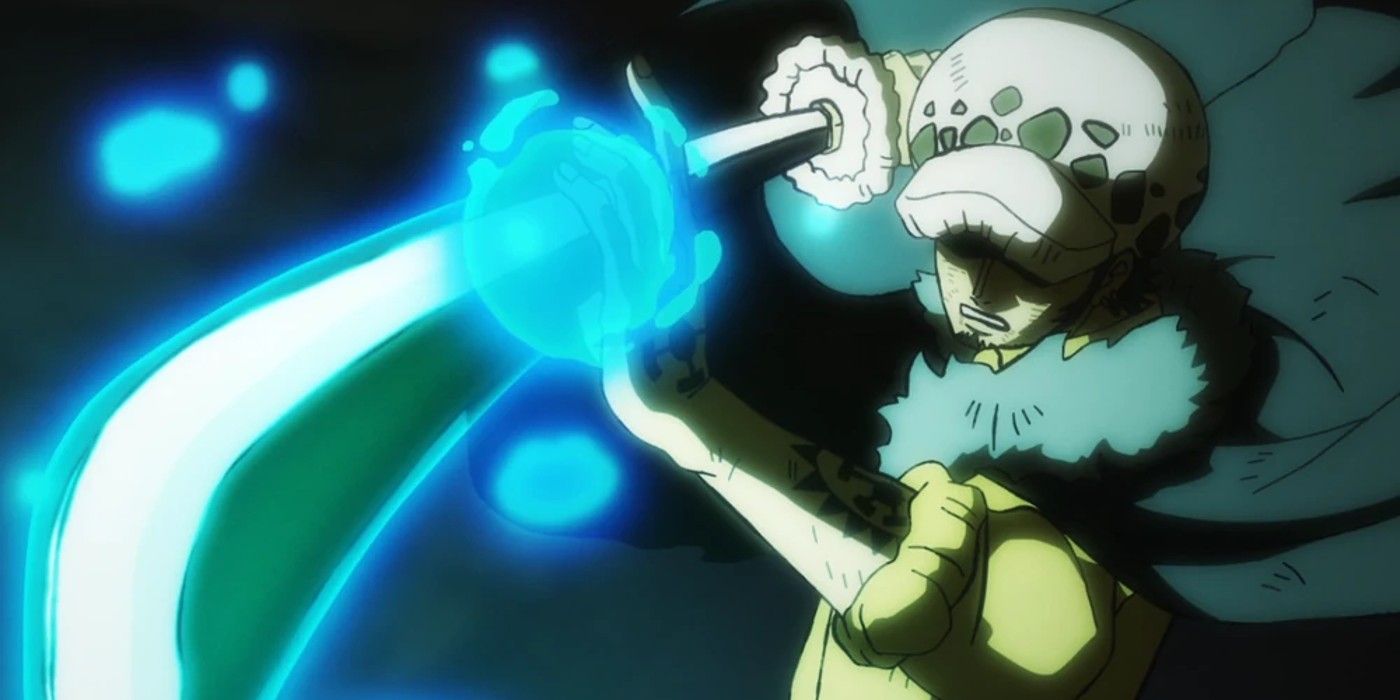 The Ope Ope no Mi, or Operation Operation Fruit, is a Paramecia-type Devil Fruit that was eaten by the rookie pirate Trafalgar Law. This fruit grants the user the ability to create a spherical area of influence that allows them to manipulate anything within it. Law can use his power to perform makeshift 'surgery' on anyone or anything within his sphere, even removing their hearts without killing them. He can also teleport objects and people within his sphere and create powerful shockwaves that ripple through the air. The Ope Ope no Mi excels at a supportive fighting style, allowing the user to shift their allies around the battlefield to avoid damage while also placing their enemies in severely detrimental positions. Additionally, the Ope Ope no Mi is said to be able to perform something known as the Immortality Procedure, where the user gives up their life in order to ensure someone is capable of living forever.
Related: One Piece Teases a Backstory At The Center of Several Big Mysteries
8
Soru Soru no Mi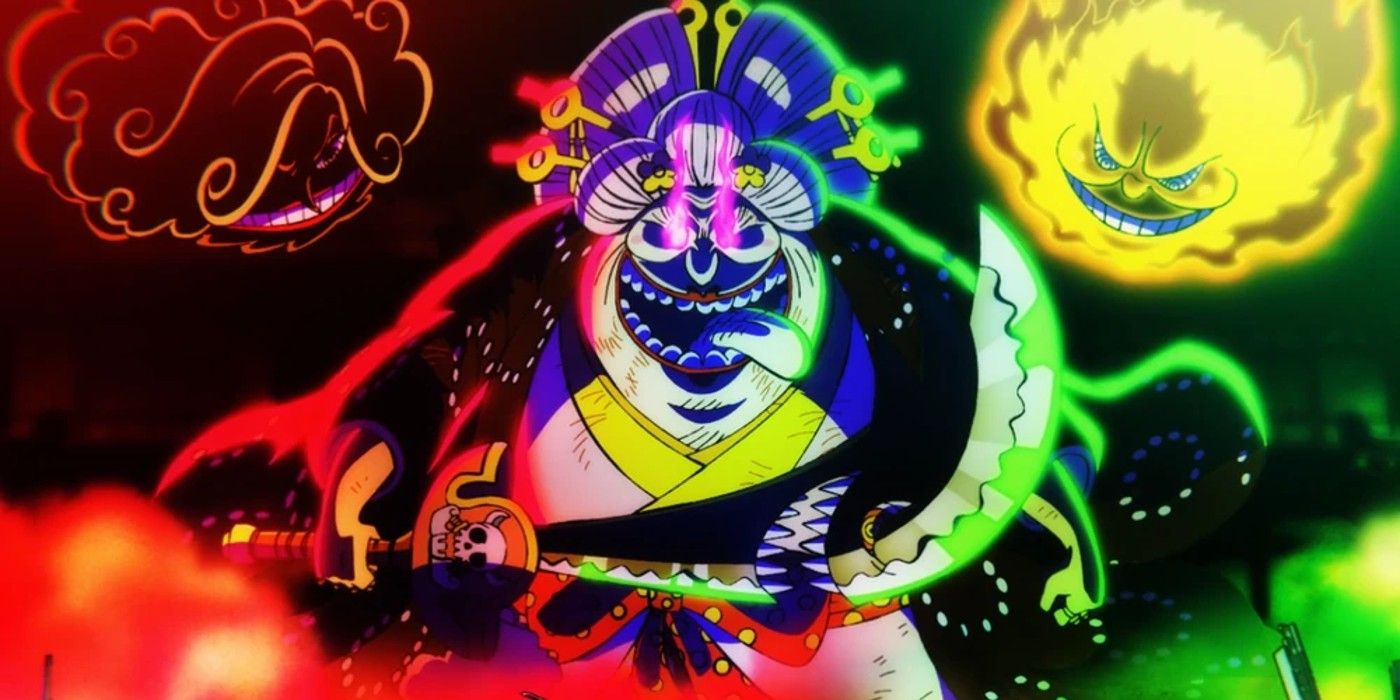 Big Mom's Soru Soru no Mi is one of the most versatile Devil Fruits in the series, which is part of what makes it so powerful. The powers of the Soul-Soul Fruit enable Big Mom to extract part of a person's soul and use it to animate any objects she wishes. Extracting a soul reduces its victim's lifespan, potentially making this a fatal ability on its own, although this only works on enemies who fear Big Mom. Her powerful living weapons like Zeus and Prometheus give her terrifying offensive capabilities and if she ever gets injured she can animate her body parts and have them fix themselves. All of this makes the Soul-Soul Fruit one of the strongest Devil Fruits in the series.
7
Hi Hie no Mi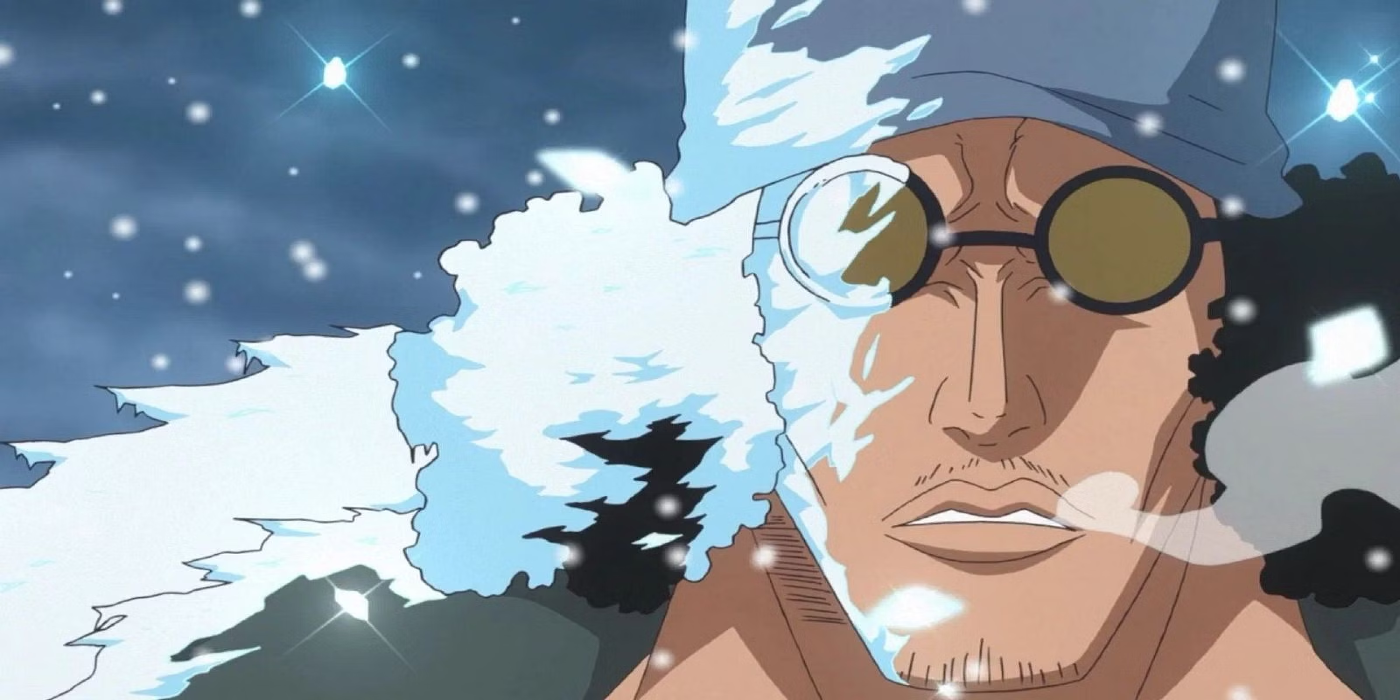 The Hie Hie no Mi, or One Piece's Chilly-Chilly Fruit, is a Logia-type Devil Fruit that was eaten by former Marine Admiral Kuzan. This is among the most potent Devil Fruits of all, being able to contest Admiral Sakazuki's Magu Magu no Mi for ten days. The power of the Hie Hie no Mi was also so great that it permanently changed half of Punk Hazard's landscape, suggesting it may even be on par with Sakazuki's Devil Fruit, which is said to boast the highest offensive power among Logias. Using the Hie Hie no Mi, Kuzan froze tsunami waves generated by Whitebeard, and turned Marineford's bay into an icescape in moments. This power grants Kuzan notable offensive power at both close and long range while also maintaining the standard level of Logia intangibility.
6
Magu Magu no Mi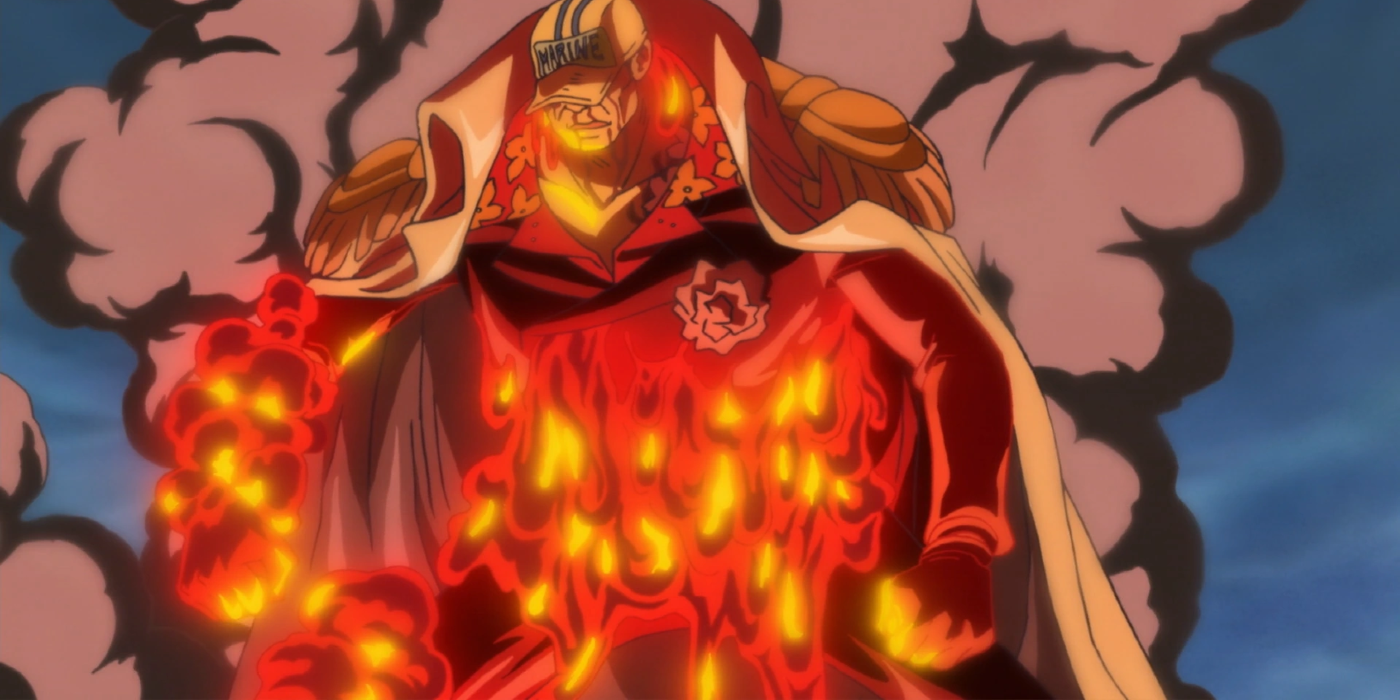 The Magu Magu no Mi, also known as the Magma Magma Fruit, is a Logia-type Devil Fruit that was eaten by One Piece's Admiral Akainu, one of the most powerful Marines. Akainu is known for his ruthlessness and unwavering sense of justice, often delivered brutally. His Devil Fruit complements this personality by being an extremely destructive power capable of burning through other Logias with ease. Akainu is also able to use his Devil Fruit in very creative ways, at one point causing flaming meteors to fall out of the sky. Akainu's molten rock body means that even if an opponent can close the gap, they still have to worry about intense heat in close-quarters combat.
5
Nikyu Nikyu no Mi
The Paw Paw Fruit, also known as the Nikyu Nikyu no Mi, was eaten by Bartholomew "Tyrant" Kuma, a former member of the Seven Warlords of the Sea turned cyborg slave. This Devil Fruit allows Kuma to repel anything he touches, including people, objects, and even electrical signals in someone's nervous system. Kuma's main use of the Paw Paw Fruit is to create attacks that can send his opponents flying across great distances. The fruit also allows him the ability to deflect attacks back at his enemies, making him a fearsome opponent in battles. The Paw Paw fruit was also recently revealed to be able to affect intangible concepts such as memories, and potentially even souls. This means that, at the height of his power, Kuma would theoretically be able to teleport someone across the world with no memory of who or what they are, making this Devil Fruit power one of the most horrifying out there.
Related: One Piece Reveals The Secret Location of The Straw Hats' Greatest Ally
4
Pika Pika no Mi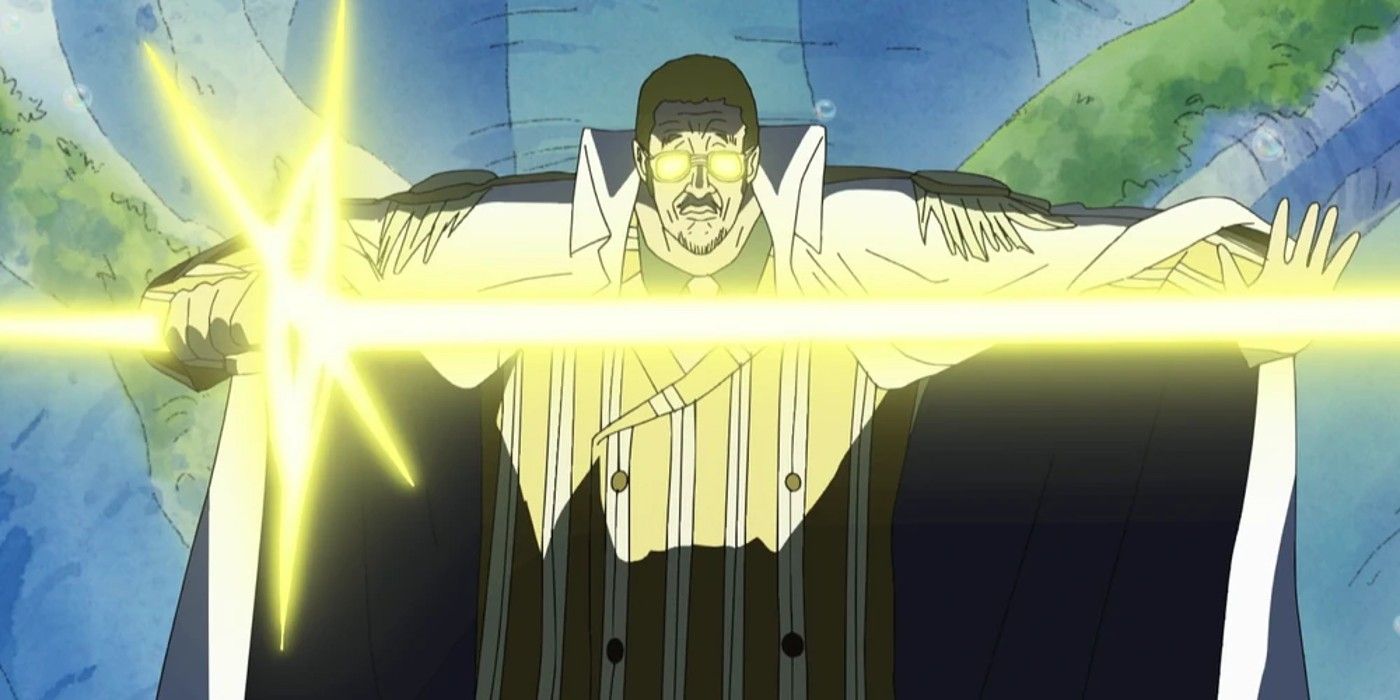 Kizaru is one of the scariest Naval Admirals in the series. With his Pika Pika no Mi, he can turn his body into light, making him incredibly fast and impossible to hit without using Haki. On top of this his powers enable him to shoot laser beams at his enemies, which makes him easily able to defeat enemies from a long range. He can also wield a blade of light to fight enemies who get in close to him. All of this is why the Pika Pika no Mi is one of the most powerful Devil Fruits in the series, even when compared to those possessed by his fellow Admirals.
3
Hito Hito no Mi: Model Nika / Gomu Gomu no Mi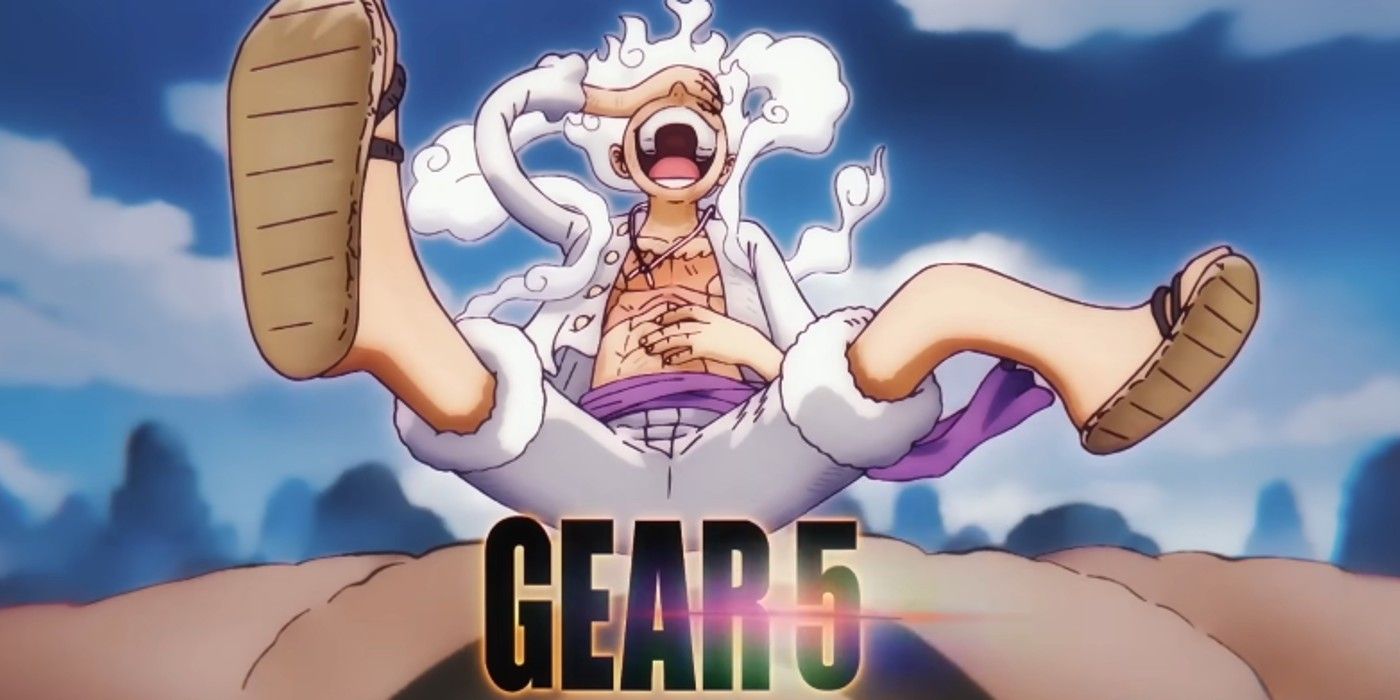 The Hito Hito no Mi: Model Nika, also known as the Human-Human Fruit: Model Nika is one of the most interesting fruits in One Piece. It was long believed that the rookie pirate Monkey D. Luffy possessed a Devil Fruit known as the Gomu Gomu no Mi, or the Rubber Rubber fruit. Recently, it has been revealed that this Devil Fruit is actually a Mythical Zoan-type fruit that allows Luffy to take the form of an ancient deity once worshiped as a Sun God. The powers of the Nika fruit, when fully unleashed, are said to be the most ridiculous powers in the world, granting the user complete and total freedom over their own body, and the ability to manipulate their surroundings as if they were made of rubber.
2
Gura Gura no Mi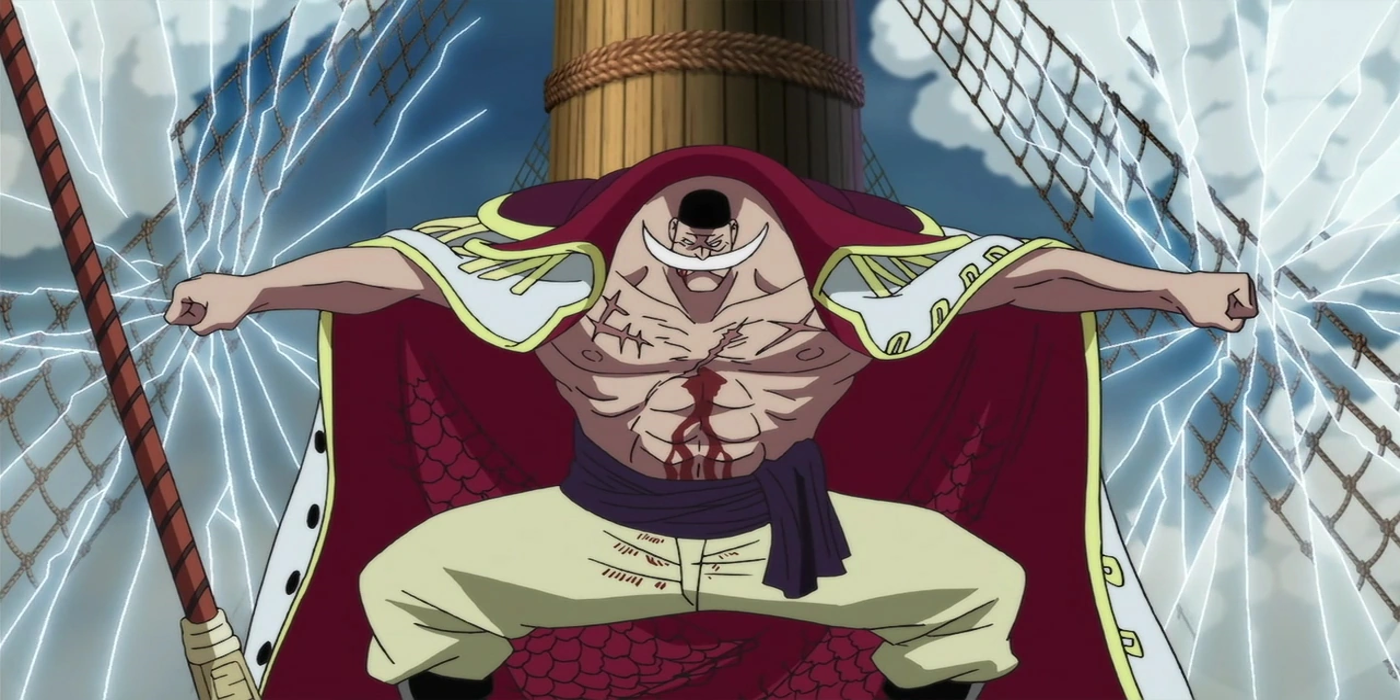 The Gura Gura no Mi, also known as the Quake Fruit, was once wielded by the late Whitebeard, the strongest man in One Piece's world. This Devil Fruit allows the user to create powerful shockwaves that can shake the very foundations of the earth and even cause tsunamis. Whitebeard used the power of the Gura Gura no Mi to create an earthquake that split the entire Marineford island in half. The mere threat of his power was enough to make even the Navy tremble. Whitebeard's Devil Fruit power gave him and his crew a dominion over the seas that was unmatched by any other Yonko, as the ability to create tsunami waves that reach towards clouds could not be opposed on open waters.
1
Yami Yami no Mi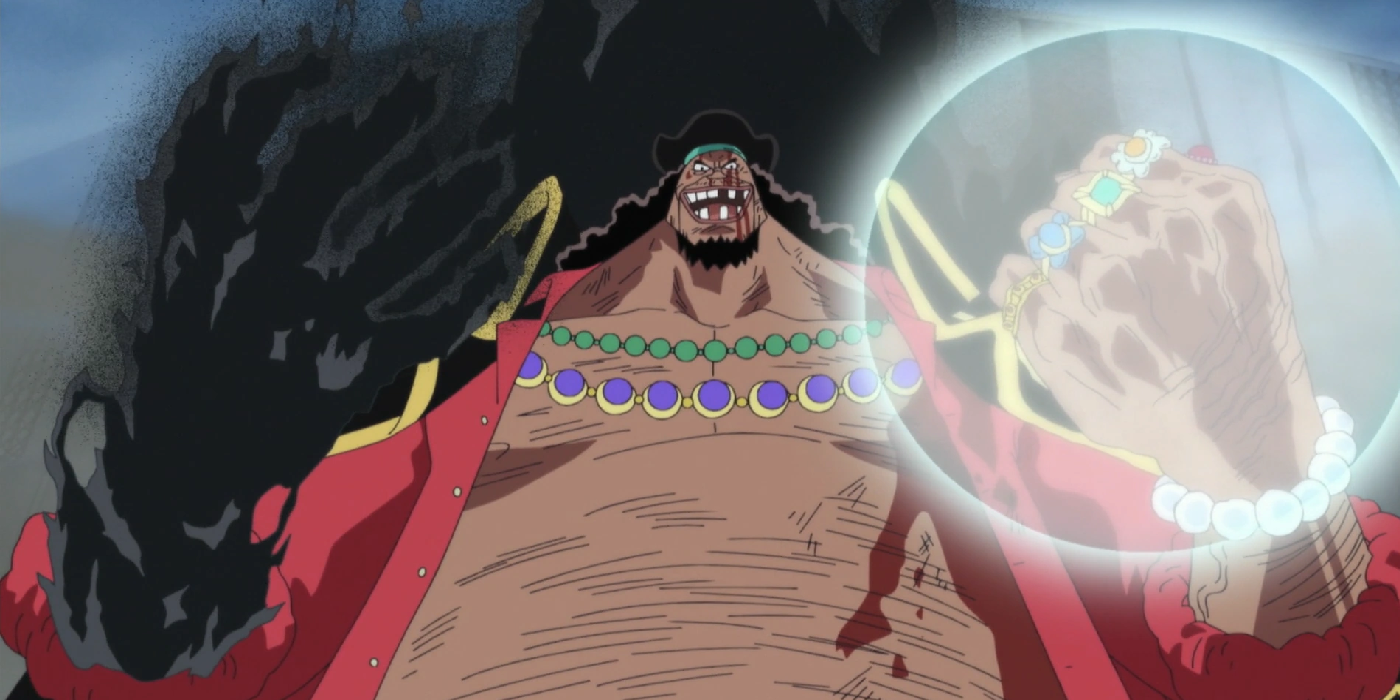 If all Devil Fruits stem from the dreams of people, then the dream that created the Yami Yami no Mi must have been a nightmare. The Yami Yami no Mi also known as the Darkness Darkness Fruit, could easily be considered the strongest Devil Fruit in the One Piece world. It was eaten by Blackbeard, the infamous pirate who betrayed and attempted to execute Whitebeard in cold blood. This Devil Fruit has unique properties that allow it to absorb and cancel out the powers of other Devil Fruits, automatically giving it a massive edge when it comes to battles between fruit users.
One Piece's long list of Devil Fruits contains some of the most intriguing powers found anywhere in the shonen genre. As One Piece progresses toward its hotly anticipated ending, it's only natural that more and more of these powerful and utterly destructive Devil Fruit powers will continue to show up.