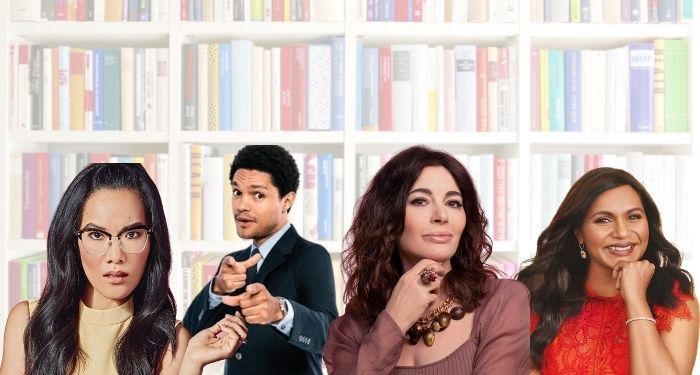 This content contains affiliate links. When you buy through these links, we may earn an affiliate commission.
In the ever-constant journey to find creative ways choose books for my TBR, I am turning to some of my favorite celebrities to see what they've been reading. I'm a big BookTube follower, and I've seen BookTubers posting videos about reading notable celebrities' favorite books. It sounded fun. I wanted to do the same.
So I got to researching. I wanted to find celebrities who read widely across many genres, and I also wanted to find a celebrities who search for diverse voices in their reading lives. Ultimately, these are the celebrities whose reading recommendations made the cut. Here's a look at celebrities who read diversely and the books they recommend.
Oh, and if you are interested to see this experiment through to the next stage, I will be doing a follow-up where I read the books that one of these celebrities recommended and I'll officially judge their reading tastes. So stay tuned!
Trevor Noah
I'm a huge fan of The Daily Show, and host Trevor Noah often discusses new books on the show. I'm often skeptical of talk show hosts who plug books on their shows — not to call anyone out specifically, but like, there's no way they actually read all of them, right? Except… it's pretty clear Trevor Noah actually does read all of these books. And he's got quite a few favorite books that he's recommended.
Some of Noah's favorites include Long Walk to Freedom by Nelson Mandela, Homegoing by Yaa Gyasi, To Quote Myself: A Memoir by Khaya Dlanga, and Native Life in South Africa by Sol Plaatje.
Oh, and if you've somehow made it to 2022 and haven't read Trevor Noah's memoir Born A Crime yet, what are you doing? Read it now. You'll laugh. You'll cry. Ten out of five stars.
Ali Wong
You might know actress, comedian, and writer Ali Wong from her beloved Netflix standup specials Baby Cobra, Hard Knock Wife, and Don Wong. Maybe you love her movie Always Be My Maybe, in which she starred, wrote, and produced. Or maybe you've read her book Dear Girls: Intimate Tales, Untold Secrets, & Advice for Living Your Best Life. However you came to know Ali Wong, you'll be pleased to know that she also loves to read.
Some of Ali Wong's favorite books include Little Fires Everywhere by Celeste Ng, Pachinko by Min Jin Lee, Sing, Unburied, Sing by Jesmyn Ward, The Life-Changing Magic of Tidying Up by Marie Kondo, and Homegoing by Yaa Gyasi. Yes, that's right. That's a second celebrity endorsement for Homegoing.
Reese Witherspoon
Of course, I had to end with a couple of the more obvious picks. You're probably very familiar with Reese Witherspoon's reading tastes because of her very popular book club. Reese's Book Club focuses on stories centered around women, but the types of stories and perspectives featured are very diverse.
Reese Witherspoon has recommended over 50 books through her book club, including Seven Days in June by Tia Williams, The Last Story of Mina Lee by Nancy Jooyoun Kim, You Should See Me in a Crown by Leah Johnson, Such A Fun Age by Kiley Reid, and Little Fires Everywhere by Celeste Ng. If you're counting, yes, that's two votes for Little Fires Everywhere.
Of course, Reese Witherspoon also has her own book as well. So if you need even more Reese in your life, check out Whiskey in a Teacup.
Oprah Winfrey
And to finish out this list, we had to end with the queen of book clubs, Oprah Winfrey. Oprah's Book Club started as a book segment on her talk show The Oprah Winfrey Show in 1996. Now, in 2022, Oprah's Book Club is probably the most influential book club of all time. Oprah famously loves to read and support the books she loves.
Here are some of the noteworthy books that Oprah has championed over the years: The Love Songs of W.E.B. Du Bois by Honorée Fanonne Jeffers, The Sweetness of Water by Nathan Harris, Caste by Isabel Wilkerson, A Fine Balance by Rohinton Mistry, Daughter of Fortune by Isabel Allende, and multiple novels by Toni Morrison: Song of Solomon, Sula, Paradise, and The Bluest Eye. Yes, that's two celebrity votes for The Blues Eye.
---
I'd like to make a quick note that all of the people on this list are women and/or BIPOC celebrities. So white men, once again, I'm going to need you to do better.
Want more celeb content? Check out these 8 celebrity novels to add to your TBR. And here's a look at the history of the celebrity book. Last but not least, here are 15 books recommended by celebrities.